Illicit Networks and Politics in Latin America
Organized criminal networks are global phenomena that distort local and global economic markets, bring violence and blur the role of the state in providing basic services, all in the interest of increasing their wealth.
The main weapon used by such networks is corruption of politicians and of state institutions. This undermines the basic principles of democracy and puts the state at the mercy of illicit economic interests.
This is a global challenge. Latin America has particularly suffered from these issues for a number of reasons. The strong presence of illicit networks dedicated to illegal mining, the trafficking of exotic species, arms trafficking and the production and sale of illegal drugs has created a massive inflow of illicit money.
Together with the high cost of political activity in the region and difficulties in controlling political contributions, this has allowed organized crime to penetrate the political landscape. However, efforts in different Latin American countries to confront these networks have seen significant achievements.
This report focuses on experiences in Colombia, Ecuador, Guatemala, Honduras and Peru. The authors draw on research that illustrates how relationships are forged between criminals and politicians, and identify numerous mechanisms for tackling these relations.
Details
Publication date
18 November 2014
Author(s)
Ivan Briscoe, Catalina Perdomo, Catalina Uribe Burcher
Co-Publisher(s)
Netherlands Institute for Multiparty Democracy, Netherlands Institute of International Relations (Clingendael)
ISBN
978-91-87729-70-6 (Print)
Contents
Foreword
Preface
Acknowledgements
Abbreviations
Glossary
1. Introduction
2. Project Development and Methodology
3. The Historical Development of the Nexus between Politics, Crime and the Economy in Latin America
4. Comparative Regional Analysis of the Nexus between Illicit Networks and Politics in Latin America
5. Colombia
6. Peru
7. Ecuador
8. Guatemala
9. Comparative Regional Analysis of Legislation to Combat Organized Crime and its Links with the Political Sphere
10. Conclusions and Recommendations
References and further reading
Give us feedback
Do you have a question or feedback about this publication? Leave us your feedback, and we'll get back to you
Send feedback
Illicit Networks and Politics in Latin America
5393
3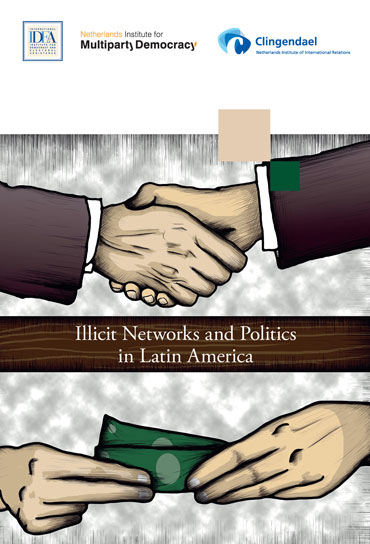 | | |
| --- | --- |
| Total views | 5393 |
| Downloads | 3 |
| Rating | |
Authors
Give us feedback
Do you have a question or feedback about this publication? Leave us your feedback, and we'll get back to you
Send feedback