This publication is only available in electronic format
ISBN:
978-91-7671-126-2 (Print)
Co-Publisher(s):
Embassy of Switzerland in Sweden, Swiss Democracy Foundation
In a democracy, formal popular votes are important to the exercise of people power.
Traditionally, in most representative democracies, the power of citizens to make decisions at the ballot box was restricted to the elections of other people and parties to offices and parliament. However, in recent years more and more countries have adopted new possibilities and channels for citizens to make their voices heard—even between election days.
This Global Passport to Modern Direct Democracy offers basic information about the tools of direct democracy. It introduces key definitions, describes various tools, and includes recommendations on how to use initiatives, referendums and plebiscites.
International IDEA supports the development and use of democratic procedures and practices around the world. Our Direct Democracy Database is a unique resource for democratic practitioners, administrators and observers. This Passport complements our 2008 publication, Direct Democracy: The International IDEA Handbook.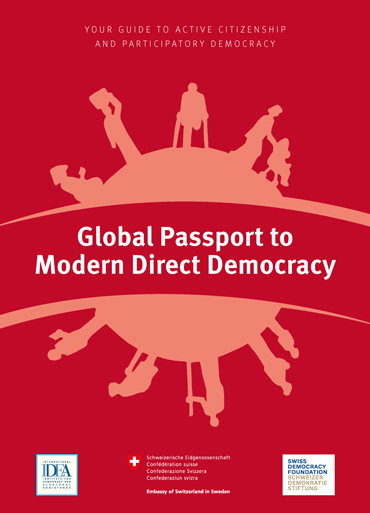 Contents
The world of active citizenship and participatory democracy
Your fundamental rights
Your guide to modern direct democracy
Modern direct democracy: initiatives, referendums and beyond
Define your role and interest in modern direct democracy
Where do you want to exercise your participatory rights?
Choose your direct democracy tool
Citizens' initiatives
Popular referendums
You don't have to go it alone
Getting involved: a step-by-step guide
Mandatory referendums: when the law says 'by the people'
The plebiscite: a top-down amalgam
The recall: mixing people and issues from the bottom-up
Involving the people in many ways
How to make modern direct democracy work
References
Resources
International IDEA: supporting (direct) democracy worldwide
Switzerland: a natural reference point and support centre
About the author