Elections At a Crossing Point: Considerations for Electoral Design in Post-Coup Myanmar
International IDEA Policy Paper No. 26, October 2022
Myanmar's military junta has sought to justify the 1 February 2021 coup d'état with dubious allegations of electoral fraud surrounding the 8 November 2020 general elections. The State Administration Council perpetuates this narrative of electoral fraud and claims to be preparing fresh elections, including by making changes to election and political party laws, implementing a new electoral system, and updating the voter list.
At the same time, pro-democracy forces are not only supporting civil disobedience and opposition to military rule, but also seeking to reconfigure the constitutional framework for a future democratic and federal Myanmar. In this context, it is advisable to factor in questions of electoral design from an early stage, which can also assist in countering the military's problematic narrative.
Against the background of Myanmar's recent electoral history and ongoing political crisis, this Policy Paper outlines key areas to consider with regard to elections in the context of federal constitutional design: the overall electoral legal framework, electoral system choice, electoral management, voter registration, including a clear framework for suffrage rights, and electoral dispute resolution.
Details
Publication date
06 November 2022
Author(s)
Gilles Saphy and Michael Lidauer
Contents
Executive summary
Recommendations
1. Myanmar's transitional elections
2. Ground elections in international law
Conclusions
References and further reading
Give us feedback
Do you have a question or feedback about this publication? Leave us your feedback, and we'll get back to you
Send feedback
Elections At a Crossing Point: Considerations for Electoral Design in Post-Coup Myanmar
International IDEA Policy Paper No. 26, October 2022
1207
21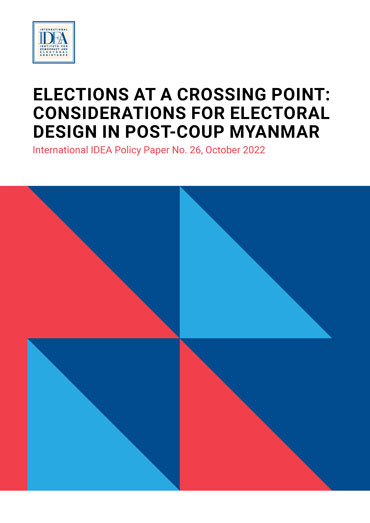 | | |
| --- | --- |
| Total views | 1207 |
| Downloads | 21 |
| Rating | |
Give us feedback
Do you have a question or feedback about this publication? Leave us your feedback, and we'll get back to you
Send feedback