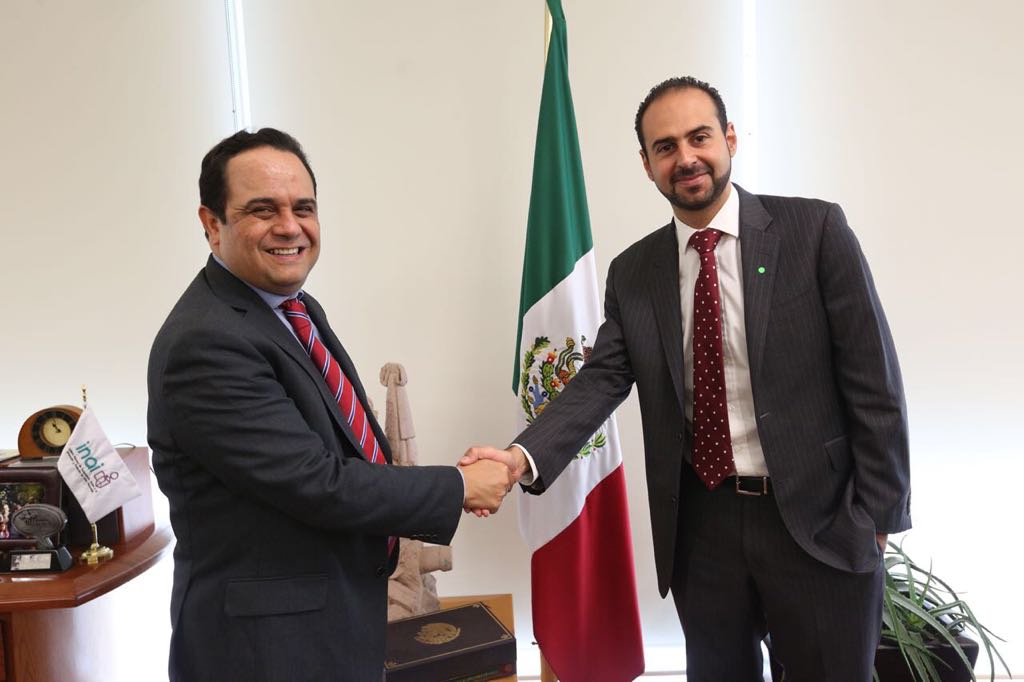 Dr Miguel Ángel Lara Otaola met with INAI's Commissioner President, Dr Francisco Javier Acuña. Image credit: International IDEA
In the spirit of the importance of accountability and transparency, at the end of August 2018, the Head of Programme for Mexico and Central America, Dr Miguel Ángel Lara Otaola, met with Dr Francisco Javier Acuña, Commissioner President of the National Institute of Transparency, Access to Information and Protection of Personal Data (INAI) of Mexico to explore the possibilities for collaboration between both institutions.
Este artículo está disponible en español.
The INAI is the autonomous body in charge of guaranteeing the right to access to information, ensuring compliance with the transparency obligations of multiple actors and implementing public policies on accountability and transparency in Mexico.
Transparency allows—by means of citizen participation, new technologies and access to public data—to demand more from governments, which translates into greater accountability. A transparent government that is accountable for its actions intrinsically strengthens the policies, practices and laws that make the society more equal, inclusive and fair; and for the same purpose, it designs more effective mechanisms to meet the needs of the population.
Part of International IDEA's work has been aimed at strengthening the principles of transparency and accountability. In 2014, International IDEA developed a methodology—"Democratic Accountability in Service Delivery: A practical guide to identify improvements through assessment"—to help overcome the obstacles that prevent the population from becoming more involved in demanding greater accountability from its authorities. These include issues of collective action, lack of capacity, mismanagement and corruption. Additionally, in 2016, International IDEA published Building Back Better: A Democratic Assessment of Service Delivery After Typhoon Haiyan, which offers an assessment of the accountability mechanisms in the provision of housing and relocation service delivery following Typhoon Haiyan's devastating impact in the Philippines in 2013. More recently, in April 2017, International IDEA edited Open Data in Electoral Administration, a document intended to help electoral management bodies to comply with the principles of open data in the publication of information about elections.
It is important to remember that Mexico co-founded the Open Government Partnership (OGP), an international platform for countries committed to the principles of transparency, access to information, accountability, citizen participation and innovation and technology. To continue its international leadership, Mexico must consolidate what has been achieved and push forward the agenda. The work of INAI constitutes a fundamental contribution in this direction.
International IDEA celebrates the spirit of openness shown by INAI and looks forward to the opportunity to collaborate closely in the near future. As is its tradition, International IDEA makes available all its expertise, technical knowledge and capacity (conceptual, methodological and practical) to promote best practices and design better policies in the field.