Youth Voter Participation: Involving Today's Young in Tomorrow's Democracy
This report discusses the problem of low youth voter turnout internationally, explores its causes and suggests practical ways to raise young people's interest and participation in politics. It includes statistical illustrations, graphics and samples of posters and voter materials from around the world.
In 1997, the International Institute for Democracy and Electoral Assistance (International IDEA) published a report that analysed statistics from more than 1,400 parliamentary and presidential elections held between 1945 and 1997 in over 170 countries. That report found that turnout across the globe rose steadily between 1945 and 1990, increasing from 61 per cent in the 1940s to 68 per cent in the 1980s. But since 1990 the average has decreased to 64 per cent.
Increasing reluctance among youth to participate in politics and exercise the right to vote is particularly alarming and amounts to a weakening of democracy. Therefore, it is imperative to reverse this trend and re-engage youth in the political and democratic process. This project takes the first step in that direction by documenting the scope and pervasiveness of the problem internationally, exploring its causes, and identifying possible solutions in the form of innovative ideas and concrete programmes to raise youth interest and participation.
Details
Publication date
01 February 1999
Contents
Foreword
Overview

I: Why Young People Should Vote
II: Assessing and Analysing Youth Turnout
III: Strategies for Action

Case Study 1. Russia: Promoting democracy to young people in a post-communist society
Case Study 2. Chile: Citizen participation in the transition to democracy ... and beyond
Case Study 3. South Africa: Educating all voters in support of a multiracial democracy
Case Study 4. The United States: Securing the future of democracy by involving kids today
Give us feedback
Do you have a question or feedback about this publication? Leave us your feedback, and we'll get back to you
Send feedback
Youth Voter Participation: Involving Today's Young in Tomorrow's Democracy
14381
8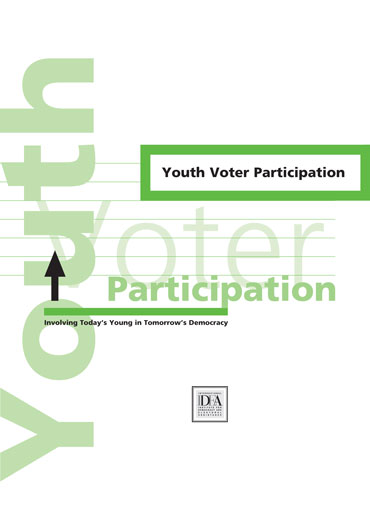 | | |
| --- | --- |
| Total views | 14381 |
| Downloads | 8 |
| Rating | |
Give us feedback
Do you have a question or feedback about this publication? Leave us your feedback, and we'll get back to you
Send feedback