This publication is only available in electronic format
International IDEA's Voter Turnout Database provides updated and reliable information about voter turnout from around the world. This report includes statistics from more than 1,600 parliamentary and presidential elections in over 170 countries held between the end of World War II and 2002.
Easy-to-use colour-coded tables give ready access to election turnout percentages from almost every contested national election. Graphs, charts and tables highlight trends in voter turnout and compare turnout between old and new democracies. Political participation in different regions is analysed and corresponding information is presented on the potential impact of literacy, a country's wealth and civil liberties on voter turnout. A color-coded world map, showing turnout percentages from the most recent national elections, is also included.
In addition to the voter turnout statistics and analyses, this publication contains a thematic focus on voter registration. Voter registration is the process of exercising the franchise, and as such is a key condition of electoral participation. History shows us that the removal of barriers to registration is essential to the full exercise of a citizen's political rights. Country case studies and an analysis of voter registration methods used around the world are presented together with graphs and global information on voter registration.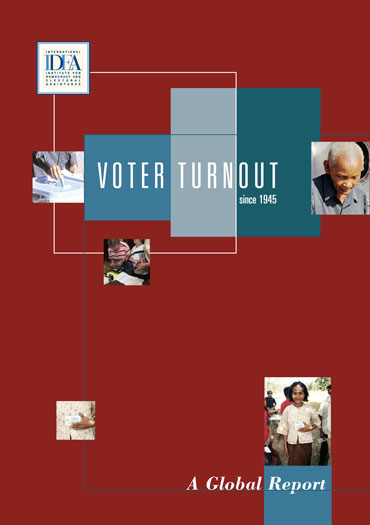 Contents
Preface
Methodology
Introduction: Political Participation in New and Old Democracies
Voter Registration
Voter Turnout
The International IDEA Database: Voter Turnout from 1945 to 2001
Contributors
Sources