Sequencing Peace Agreements and Constitutions in the Political Settlement Process
International IDEA Policy Paper No. 13
In situations of violent conflict, negotiated agreements—including ceasefire or peace agreements and documents detailing constitutional arrangements—attempt to reach a new political settlement between the warring protagonists, which is ideally supported by the broader society.
Such political settlements aim to move the country or region from conflict to a situation characterized by constitutional commitments to good governance and the rule of law.
The sequencing—and the success or failure—of these negotiated agreements depends on a number of factors, including the diverse processes through which a political settlement is reached; when (and how) peace agreements and constitutions reach a political settlement; when (and why) constitution-making separates from the political settlement process; and the consequences of such a separation.
This Policy Paper aims to address the gap in the constitution-making and peacebuilding literatures regarding descriptive and normative accounts of the relationship between peace agreements and constitutional arrangements in political settlement processes. It explores the sequencing of peace deals and constitutional arrangements in order to better understand when (and why) sequencing does not follow the logical model, and the implications for any coherent and workable constitutional framework.
Details
Publication date
01 November 2016
Author(s)
Christine Bell, Kimana Zulueta-Fülscher
ISBN
978-91-7671-074-6 (Print)
Contents
Acknowledgements
Abbreviations
Key recommendations
Executive summary
1. Introduction
2. Sequencing peace agreements and constitutions in political settlement processes: a conceptual framework
3. Sequencing of peace agreements and constitutions in the political settlement process: patterns and issues
4. Case studies: learning from challenging processes
5. Conclusion: Managing the sequencing of peace agreements and constitutions
References
Annex A. Peace agreements
About the authors
Give us feedback
Do you have a question or feedback about this publication? Leave us your feedback, and we'll get back to you
Send feedback
Sequencing Peace Agreements and Constitutions in the Political Settlement Process
International IDEA Policy Paper No. 13
6955
2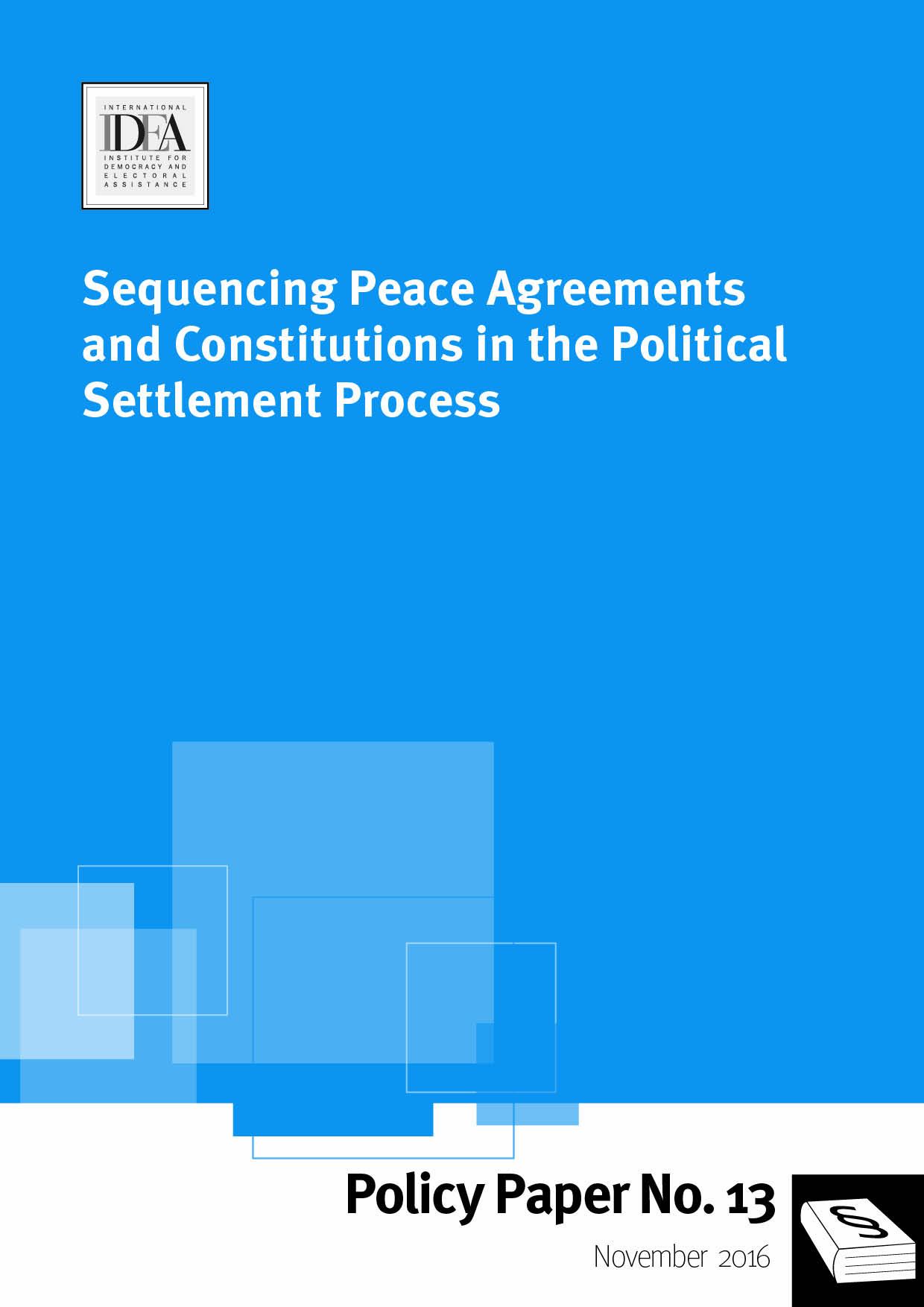 | | |
| --- | --- |
| Total views | 6955 |
| Downloads | 2 |
| Rating | |
Authors
Give us feedback
Do you have a question or feedback about this publication? Leave us your feedback, and we'll get back to you
Send feedback