Regulating Online Campaign Finance
Chasing the Ghost?
As the number of Internet and social media users increases, political parties and candidates are spending significant amounts of money on online campaigning.
It not only helps them to reach out to more voters with comparatively lower costs, but also allows them to communicate more targeted messages to voters when compared with other traditional campaign tools. Despite the growing use of online campaigns, appropriate regulation of online expenditures is almost non-existent around the world. In fact, online expenditure is one of the key weaknesses of political finance systems and regulatory frameworks.
Appropriate regulation of online expenditures will not only protect the integrity of the political process, but also thwart negative effects, such as disinformation and polarization and, more generally, prevent inauthentic activities that usually characterize online campaigns. As online expenditure is a relatively new phenomenon, its regulation is not straightforward and there is no conclusive evidence on what works. This report outlines some of the challenges that policymakers, legislators and oversight agencies face when drafting and implementing laws to include online expenditure within the scope of regulated political finance. It also provides recommendations for policymakers, social media platforms, political parties, candidates and campaigners, as well as civil society actors, on the steps that they can take towards closing the regulatory gap.
Details
Publication date
16 April 2021
Author(s)
Khushbu Agrawal, Yukihiko Hamada and Alberto Fernández Gibaja
Related databases & tools
Contents
Acknowledgements
1. Introduction
2. A 'digital divide' in campaign transparency
3. The challenges of financial 'track and trace': country examples
4. Conclusions and recommendations
References
About the authors
About International IDEA
Give us feedback
Do you have a question or feedback about this publication? Leave us your feedback, and we'll get back to you
Send feedback
Regulating Online Campaign Finance
Chasing the Ghost?
4639
24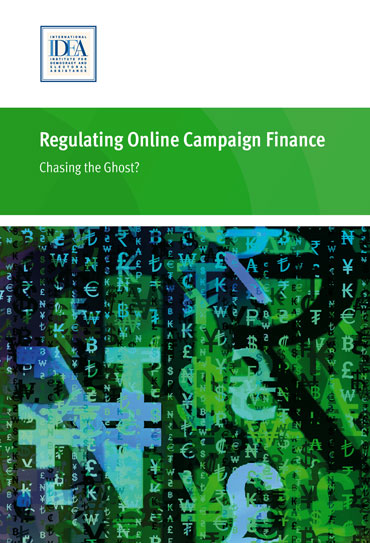 | | |
| --- | --- |
| Total views | 4639 |
| Downloads | 24 |
| Rating | |
Related databases & tools
Give us feedback
Do you have a question or feedback about this publication? Leave us your feedback, and we'll get back to you
Send feedback