From paper to lived reality: gender-responsive constitutional implementation
A constitutional text that enshrines and protects gender equality and women's rights is a significant achievement.
However, a new constitutional text marks only the beginning, and not the end, of the road to achieving substantive gender equality. The constitutional provisions and the principles on which they are based must be put into practice through the processes of constitutional implementation.
This practice-oriented Discussion Paper explores the dynamics and processes of constitutional implementation and the particular challenges of gender-responsive constitutional implementation. It draws on a workshop convened by International IDEA in Kathmandu, Nepal, on 26–28 February 2016.
Details
Publication date
31 December 2016
Contents
Executive Summary
1. Introduction
2. Key concepts
3. Methodology and format
4. The legislature
5. The executive
6. The judiciary
7. Independent institutions
8. Civil society
9. Conclusion
References
Annex. Workshop agenda
About the author
More International IDEA Discussion Papers
Give us feedback
Do you have a question or feedback about this publication? Leave us your feedback, and we'll get back to you
Send feedback
From paper to lived reality: gender-responsive constitutional implementation
5325
1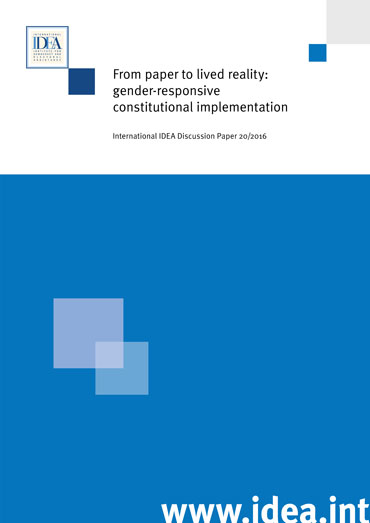 | | |
| --- | --- |
| Total views | 5325 |
| Downloads | 1 |
| Rating | |
Give us feedback
Do you have a question or feedback about this publication? Leave us your feedback, and we'll get back to you
Send feedback