The Fundamentals of Constitutional Courts
This Constitution Brief provides a basic guide to constitutional courts and the issues that they raise in constitution-building processes, and is intended for use by constitution-makers and other democratic actors and stakeholders in Myanmar.
Details
Publication date
18 April 2017
Contents
1. What are constitutional courts?
2. What are the powers of constitutional courts?
3. How are constitutional court judges selected?
4. Who can bring a case to a constitutional court?
5. What is the relationship between the constitutional court and the ordinary courts?
6. What sort of procedure is to be expected and what actual verdicts and remedies do constitutional courts have at their disposal?
7. What are the advantages and disadvantages of having a constitutional court?
8. What is the international experience of constitutional courts? How can constitutional courts contribute to democratization?
References and further reading
Give us feedback
Do you have a question or feedback about this publication? Leave us your feedback, and we'll get back to you
Send feedback
The Fundamentals of Constitutional Courts
6804
5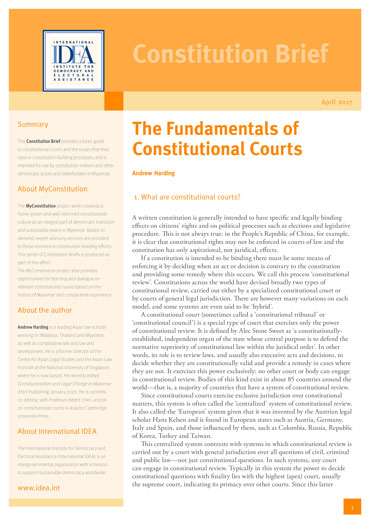 | | |
| --- | --- |
| Total views | 6804 |
| Downloads | 5 |
| Rating | |
Give us feedback
Do you have a question or feedback about this publication? Leave us your feedback, and we'll get back to you
Send feedback