Back to overview
International IDEA supports constitution makers in Myanmar's Union Parliament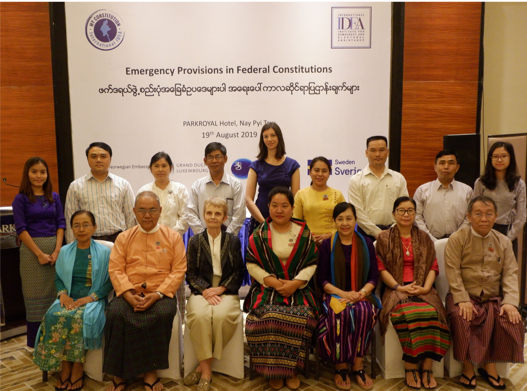 International IDEA's MyConstitution programme in Myanmar held several workshops on a variety of constitutional topics, including Emergency Provisions in Federal Constitutions. Photo credit: International IDEA
<p>Members of Parliament discuss constitutional reform, supported by International IDEA's trusted knowledge resources and workshops</p>
Members of Parliament discuss constitutional reform, supported by International IDEA's trusted knowledge resources and workshops
Myanmar's National League for Democracy government reinvigorated its election promise of constitutional reform, as Parliament approved the formation of the Joint Parliamentary Committee on Constitutional Amendment (JPCCA) on 6 February 2019. This event caught pundits by surprise and returned the issue of amending the 2008 Constitution to the forefront of the country's political agenda.
Building on its expertise and previous work with the Union Parliament, International IDEA's MyConstitution programme has been taking the lead to provide trainings, events and knowledge products for this crucial committee. The programme has organized seven workshops on a variety of constitutional topics. International IDEA also developed knowledge products based on requests from members of the JPCCA. Publications on the role of ministers in the legislature and the role of international law in constitutions are now available.
Although the constitutional amendment process still has a long and challenging road ahead, International IDEA's support to the JPCCA has already yielded rewards. For instance, relationships between the main stakeholders have been strengthened as all parties represented in the committee, including non-elected military representatives, attend and actively participate in our events, sharing their opinions and positions.
International IDEA is now able to facilitate discussions on sensitive constitutional questions with both ethnic political party and military representatives, which demonstrates their increasing trust in International IDEA as an institution and our non-prescriptive methodology. Members of parliament from various parties also frequently have specific requests on urgent topics that they wish to explore in more depth. These requests show that the MPs are open to discussing new topics and exploring different constitutional solutions for Myanmar. They are eager to move beyond theoretical discussions to learn from specific case studies and ask critical questions that show that their knowledge of the issues discussed has increased considerably.
MPs recognize the utility of our support; they report that our workshops and knowledge products are useful, and that their understanding of the topics discussed has improved considerably. As a result, more and more MPs can draw on international best practice and engage in evidence-based discussions.
MPs also noted they are more open to the idea of public participation. They asked International IDEA to organize a workshop on how independent branches and other institutions can be included in the constitutiondrafting process in a constructive manner. The workshops have also given them insights into the experiences and negotiation strategies of stakeholders involved in constitution-building processes in other conflict-affected and transitioning countries. 
'It allows me to compare with other countries' experiences and to analyse possible consequences.' — Member of Parliament 'It enables me to support the design and implementation of a democratic federal system in Myanmar […] because it helped me to develop my capacity and wider knowledge. It helped me to engage in more and better discussion in the negotiations.' — Member of Parliament
As the workshops are tailored to the MPs' specific needs, they found the lessons learned to be directly applicable to their discussions.
'The workshops are beneficial for our constitution amendment meetings. I will use [the lessons learned] during our discussions in Hluttaw [parliament].' — Member of Parliament
Browse our Constitutional Briefs, including The Division of Powers in Federations
Through a comprehensive capacity development project, International IDEA supports constitution makers in Myanmar to apply increased knowledge and skills to make more informed choices regarding constitutional design and process.
Read more stories about International IDEA's results in our Annual Outcome Report 2019: Democracy In Action.