This publication is only available in electronic format
While the regulatory frameworks of most countries include some provisions on the transparency of political finance, the mere declaration of this principle is often not sufficient to guarantee a fair political competition or comprehensive accountability and integrity on the part of political actors.
This Technical Paper provides a snapshot of current practices in Europe on political finance disclosure, focusing on the transparency of the annual accounts of political parties, the transparency of campaign expenditure and the transparency of donations. The analysis of 41 countries in Europe shows a clear trend towards a higher level of online accessibility and usability of political financial information, but the level of transparency varies across countries.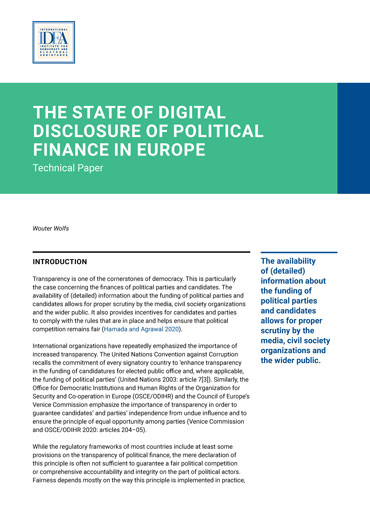 Contents
Introduction
Categorization of the availability of information online
Transparency of annual political accounts
Transparency of campaign expenditure
Transparency of donations
Summary
References