This publication is only available in electronic format
On 5–6 December 2022, International IDEA gathered 30 leading experts on democracy, anti-corruption and human rights at the inaugural Democracy in Asia and the Pacific Outlook Forum. Representing 23 institutions and organizations from 12 countries, attendees discussed key trends in democracy in the Asia and the Pacific region over the course of seven topical sessions.
The sessions were previously defined by a round of consultations and interviews with several experts on democracy and human rights. The sessions—on human rights; regional cooperation; climate change; China; disinformation; electoral authoritarianism and militarization; and political finance—attempted to take stock of the current state of democracy in the region and forecast the determining factors in the year to come.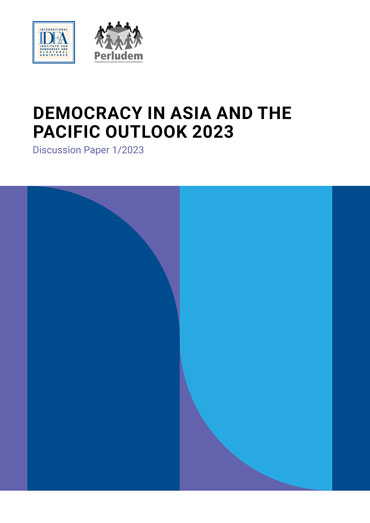 Contents
Executive summary: Six trends defining democracy in Asia and the Pacific in 2023
1. Human rights
2. Regional cooperation in a multipolar world
3. The challenges of climate change for democracy
4. China's growing influence in the region
5. Disinformation and media integrity
6. Electoral authoritarianism and the militarization of politics
7. Political finance and corruption
Conclusion
References