Constitution Building: A Global Review (2013)
Constitution-building has become an increasingly common activity as countries seek to improve their state apparatus or make political transitions to realize national goals and address current challenges.
The introduction to this publication explores 22 such processes from 2013 within a global context. The report does not attempt to present a comprehensive collection of every constitution-building process from 2013; rather, it provides a record of selected constitution-building events and acts as a resource for future constitution-building processes.
Three emergent themes can be identified: first, demands placed on constitutions are increasing; second, the process is inextricably linked to the substance; those drafting the constitution directly influence its core principles; and third, the report reveals that constitution-building processes matters a great deal to citizens, politicians and organized interest groups, and to the international community.
Details
Publication date
24 September 2014
ISBN
978-91-87729-61-4 (Print)
Contents
Foreword
Preface
Acronyms and abbreviations
Introduction
Sumit Bisarya
1. Participation and representativeness in constitution-making processes
Nicole Töpperwien
2. National dialogues in 2013
Christina Murray
3. Women and constitution building in 2013
Melanie Allen
4. The judiciary and constitution building in 2013
Tom Ginsburg and Yuhniwo Ngenge
5. Semi-presidential government in Tunisia and Egypt
Sujit Choudhry and Richard Stacey
6. Federalism and decentralization
Cheryl Saunders
7. The military and constitutional transitions in 2013
Sumit Bisarya
The outlook for 2014
Annex. Timelines in selected countries
Notes
Give us feedback
Do you have a question or feedback about this publication? Leave us your feedback, and we'll get back to you
Send feedback
Constitution Building: A Global Review (2013)
3588
6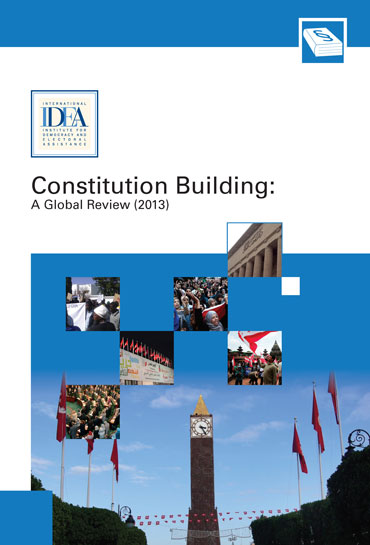 | | |
| --- | --- |
| Total views | 3588 |
| Downloads | 6 |
| Rating | |
Authors
Give us feedback
Do you have a question or feedback about this publication? Leave us your feedback, and we'll get back to you
Send feedback