Annual Review of Constitution-Building Processes: 2017
International IDEA's Annual Review of Constitution-Building Processes provides a retrospective account of constitutional transitions around the world, the issues that drive them, and their implications for national and international politics.
This fifth edition covers events in 2017 and includes chapters on the presidential election systems in Gabon, the Gambia, Malawi and Togo; the independence referendums in Iraq and Spain; constitution-building and transitional justice in Colombia and the Gambia; citizen participation in constitution-building processes in Chile, Ireland and Mongolia; the failed constitutional reform exercise in Sri Lanka; and constitutional recognition of religious identity.
Writing at the mid-way point between the instant reactions of the blogosphere and academic analyses that follow several years later, the authors provide accounts of ongoing political transitions, the major constitutional issues they give rise to, and the implications of these processes for democracy, the rule of law and peace.
Details
Publication date
13 December 2018
Author(s)
Adem K. Abebe, Sumit Bisarya, W. Elliot Bulmer, Amanda Cats-Baril, Erin Houlihan, Lea Mano and Asanga Welikala
ISBN
978-91-7671-224-5 (PDF)
978-91-7671-223-8 (Print)
Contents
Preface
Introduction
Sumit Bisarya
1. Electing African executive presidents: beyond a false dilemma
Adem K. Abebe
2. Referendums on secession and state responses in 2017: Catalonia and Kurdistan
Erin C. Houlihan
3. Transitional justice and constitution-building processes
Sumit Bisarya and Lea Mano
4. New modalities of public involvement in constitution-building processes
Amanda Cats-Baril
5. An anatomy of failure: the 2014–18 Sri Lankan constitutional reform exercise in context
Asanga Welikala
6. Constitutional recognition of religious identity
W. Elliot Bulmer
About the authors
About International IDEA
Give us feedback
Do you have a question or feedback about this publication? Leave us your feedback, and we'll get back to you
Send feedback
Annual Review of Constitution-Building Processes: 2017
5600
1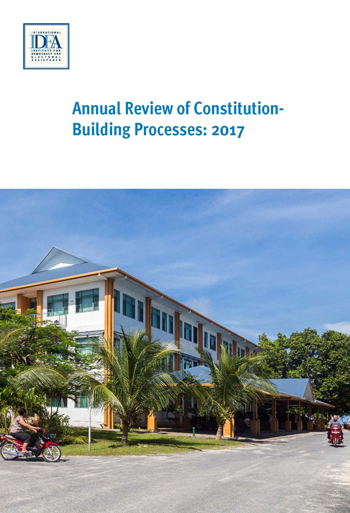 | | |
| --- | --- |
| Total views | 5600 |
| Downloads | 1 |
| Rating | |
Give us feedback
Do you have a question or feedback about this publication? Leave us your feedback, and we'll get back to you
Send feedback