Back to overview
What happens after elections are postponed? Responses to postponing elections during COVID-19 vary by regime type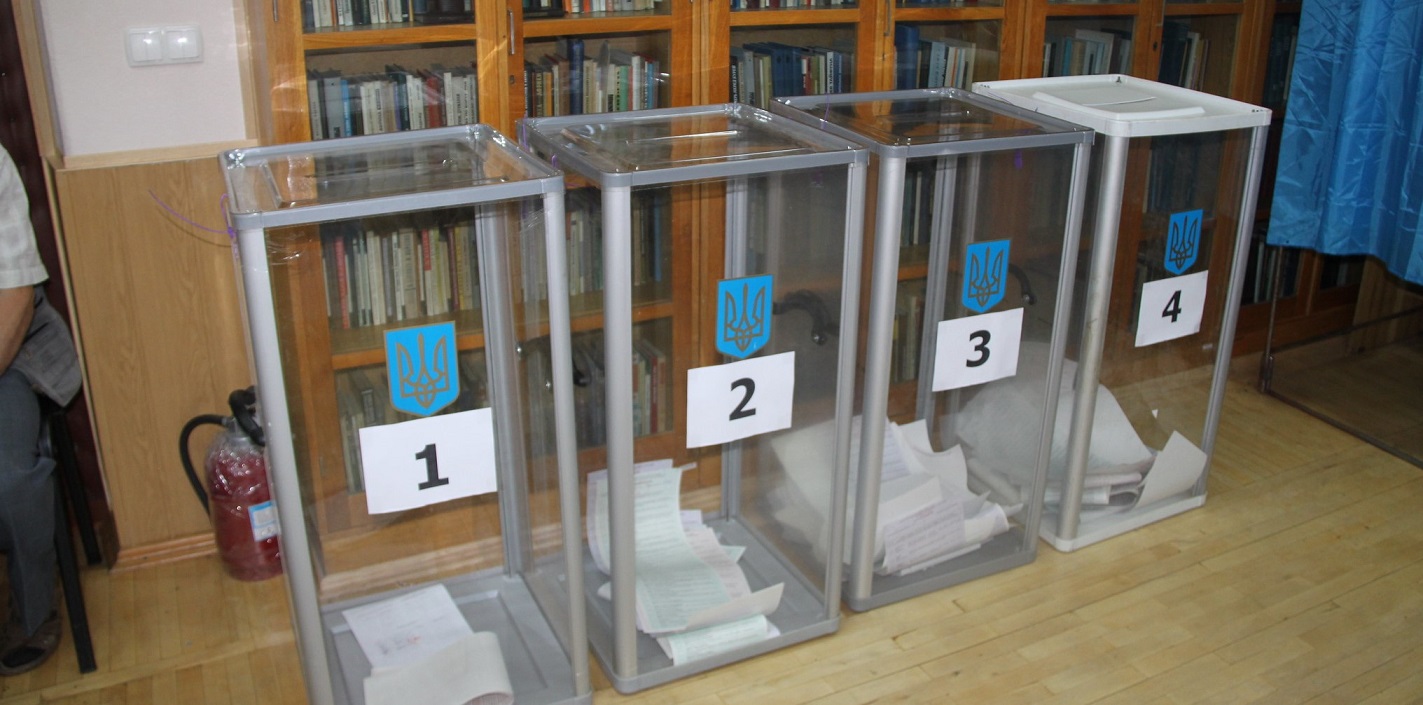 Image credit: OSCE Parliamentary Assembly@flickr
The COVID-19 pandemic has had huge implications for elections around the world in 2020. At least 70 countries and territories across the globe decided to postpone either national or subnational elections between 21 February and 31 August.
Disclaimer: Views expressed in this commentary are those of the authors, one of whom is a staff member of International IDEA. This commentary is independent of specific national or political interests. Views expressed do not necessarily represent the institutional position of International IDEA, its Board of Advisers or its Council of Member States.
For democrats everywhere, these figures could be cause for serious concern. Elections are an essential aspect of the democratic process. They ensure that incumbent governments can be removed or have their mandate renewed. 
There can be democratic and humanitarian reasons for postponing an election, however. Holding an election during a pandemic can lead to compromised election quality—and put human life at further risk. There has therefore been a genuine moral and political quandary about whether to proceed with scheduled elections.
After postponement
An important question for democracy is not just whether to proceed as planned, but what happens after elections are postponed. Are elections shelved ? Or are steps taken to immediately agree upon a new date?
Our research presented here shows that although many elections have been delayed, the vast majority of national elections are now back on schedule to be delivered—or have already taken place.
Table 1 details the national elections that were scheduled to have taken place in bewteen January and August  2020.  Roughly, half (56.6 per cent) of elections took place on the original timetable (as of 31 August). Meanwhile, many elections that were postponed have now taken place (17.0 per cent). Voters in Croatia even went to the polls ahead of time, although critics argued that the government brought the date forward this early for political reasons.
Knowledge sharing between electoral officials across borders may have helped elections to be kept on track. There are now lessons about the countries that have held elections, which research from International IDEA and the Electoral Management Network has tracked. For example, spreading elections over several days (by providing opportunities for early voting) and providing Personal Protective Equipment (PPE) for staff and voters have shown to be effective in running elections during a pandemic. Other special voting arrangements such as postal voting and proxy voting has also shown to be effective in recent elections in Poland and France. 
Table 1: National elections held or postponed from 1 January to 31 August 2020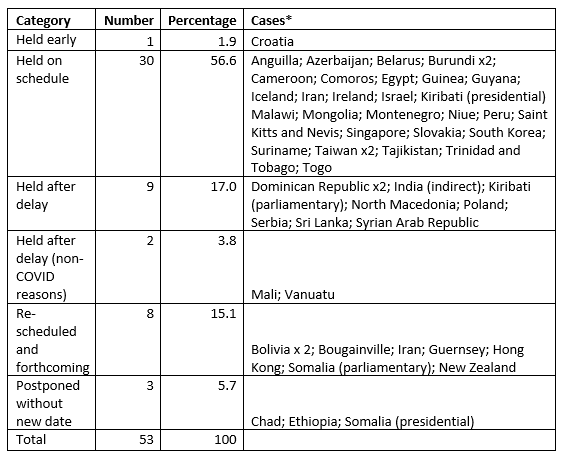 * Some countries appear twice because two elections were held (parliamentary and presidential). The table does not include national by-elections or referendums. 
 Source: Authors, constructed using International IDEA, media reports and EMB data.
Greater fears in autocracies and hybrid regimes
Election postponement does seem to be playing out differently by regime type, however. Using the International IDEA Global State of Democracy Indices, our analysis suggests that democracies are quicker to subsequently hold elections once delayed. Figure 1 shows that there are no democracies that have postponed without agreeing upon a new election date. However, there are worrying cases of one hybrid regime (Ethiopia) and two autocracies (Chad and Somalia), that have postponed but not rescheduled. 
The absence of an election date in Ethiopia has added to political turmoil in Ethiopia, with opposition leaders claiming that Prime Minister Abiy Ahmed was using the pandemic to ensure his government's survival. Elections in Chad have been postponed five times since 2015 (with President Idriss Deby Itno blaming an absence of funds, and Boko Haram) before COVID-19 caused this year's postponement.
Parliamentary elections in Somalia have been postponed to August 2021, but there is no date for the presidential election which was expected to have been held before 8 February 2021. To understand the difficulty ahead, Somalia has not conducted a direct popular vote since 1969 and a mix of political, security, financial, technical and logistical challenges remain. 
The delay in holding elections has often been understood as an act of autocratization. But Ethiopia and Somalia, more than Chad, illustrate that failure to reschedule an election is not always a power-grab, because there are complex political and logistical issues at stake. Capacity can be a central issue. The costs of elections have risen during the pandemic, as our earlier research with Alistair Clark has shown. The costs of providing PPE for voters and citizens is high and autocracies are often less economically resourced. The reasons for postponement may often therefore be logistical as well as political. Some countries however present more political basis for a power grab which is further complicated by the logistical and financial gaps that are exposed by the pandemic, for example Chad more than Somalia and Ethiopia. In the meantime regular evaluation of the circumstances and consultation with opposition groups on rescheduling should be prioritized.
Figure 1: Status of national elections following postponement by regime type, as of 31 August 2020. 
Source: Authors, constructed using International IDEA, EMB data, media sources and the Global State of Democracy Report.
Resilient democracy?
The year 2020 has therefore presented unprecedented challenges to elections. Further research will unpack how the pandemic has affected electoral integrity around the world. Postponing an election might be necessary for humanitarian reasons—but countries should set new dates to provide stability. The emerging picture is a positive one: that most countries have been able to quickly reschedule—but practical and logistical issues are often important barriers. To overcome them, further knowledge and resource sharing within the international community will be critical. Investment is needed in election management and involving all stakeholders in discussions about the timing of elections is vital to ensure confidence in democratic practices.