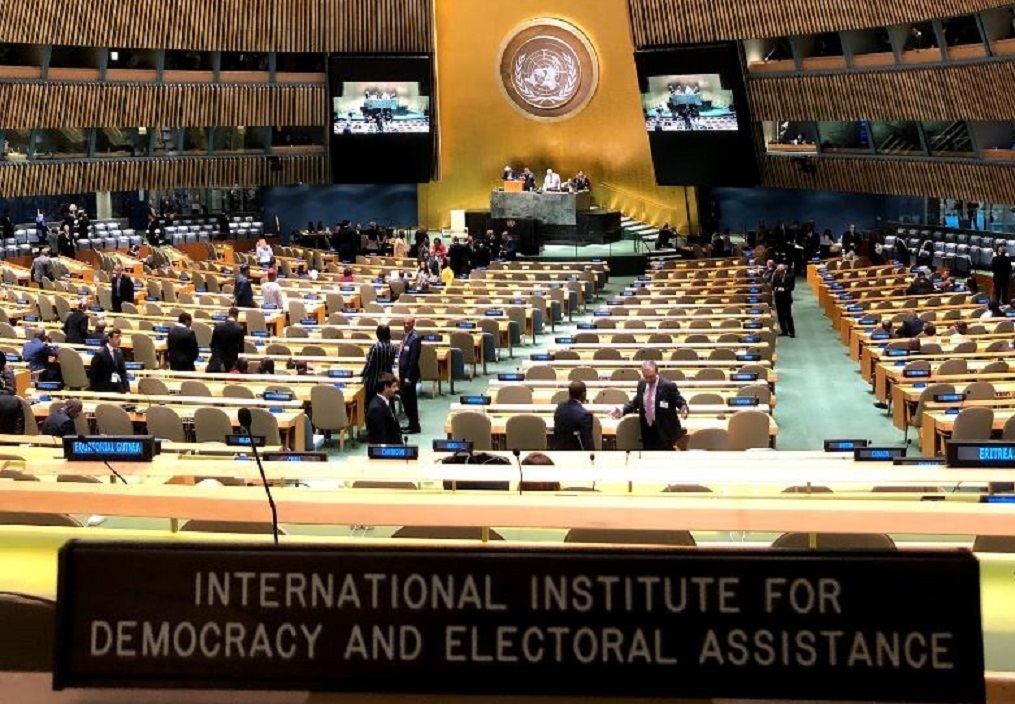 General Assembly Hall at the United Nations Headquarters in New York. Image Credit: Amanda Sourek, International IDEA
The General Debate of the 74th session of the United Nations General Assembly (UNGA) was held from 24 September to 30 September 2019 and focused on the theme "Galvanizing multilateral efforts for poverty eradication, quality education, climate action, and inclusion." Member States called for greater regional and international cooperation in tackling current global challenges, such as climate change, sustainable development, terrorism, military occupation, and the need for institutional reforms.
World leaders emphasized the importance of multilateralism as well as the responsibility of the UN to bring countries together to address persisting injustices and to promote a level-playing field where all Nations can develop and prosper.
The Secretary-General (SG) of the United Nations, Mr Antonio Guterres, opened the General Debate with remarks on some of the most compelling issues the global community is facing worldwide. These include authoritarianism, discrimination, border disputes and the gender-equality deficit. The climate emergency was a particularly strong topic of discussion, galvanized by climate strikes worldwide and the arrival of Greta Thunberg at the UN Headquarters for the Climate Action Summit. The SG described the climate emergency as a race the world is losing, but at the same time one it can win if the right changes are implemented now. Mr Guterres also expressed concern about the possibility of a "Great Fracture", noting that the world is splitting in two, with the two largest economies on earth creating two separate and competing worlds, each with their own dominant currency, trade and financial rules, their own internet and artificial intelligence capacities, and their own zero-sum geopolitical and military strategies. He warned that such a great fracture may cause populations across the world to live in a state of disquiet. In fact, they will fear getting trampled, thwarted and left behind. As a result, the SG called upon global leaders to maintain a multipolar world in which universal respect for international law and multilateral institutions remains undeniable. He also addressed the alarming phenomenon of the lack of empathy for refugees and displaced people and increasingly closed borders for people escaping from conflict and complex emergencies. Restoring trust and moving ahead together, defending human rights, promoting all kinds of equality, and taking effective action on climate change were described by the SG as the real priorities for the UN and its Member States.
Mr Tijjani Muhammad-Bande, President of the 74th UNGA, underscored the need to prioritize cooperation and avoid a relapse into bitter rivalries by strengthening mutual respect between governments. He argued that courageousness, steadfastness and empathy are required to achieve great things, and that there is no room inside the horizon of values of the UN for cynicism and apathy. Noting that the implementation of the SDGs must be the priority of the UN, he also highlighted the need to find solutions for terrorism, natural disasters, drug and sex trafficking, illiteracy, etc., which millions suffer from. Pointing to global challenges, he underscored the need for financing and experience-sharing cooperation, as those issues "all require focused cooperation to stem." He argued that the UN must be strengthened by ensuring peace and security architecture are appropriate for the 21st century. Highlighting prevention, he added that drivers of conflict, including poverty, inequality and human rights abuses "must be tackled head-on." In so doing, he vowed to work with all delegations and UN organs to advance his priorities, for which the promotion of international peace and security "is at the heart."
During the general debate, Heads of State and Governments addressed the topic of multilateralism. H.E. President Marcelo Rebelo de Sousa of Portugal, reflecting on the world's failure to embrace multilateralism in the form of the League of Nations and the subsequent global war that followed, argued that international law, international organizations and a multilateral vision that is shared by everyone are worth fighting for. He said that only those that do not know history, "and therefore do not mind repeating the mistakes of the past," minimize the role of the UN. Likewise, the Permanent Representative of Canada to the UN, H.E. Marc-Andrè Blanchard also agreed that no State can succeed by acting in isolation or even bilaterally, and that governments acting alone cannot deliver the benefits of multilateralism. He stressed the need for inclusiveness, underscoring the participation of youth, women and indigenous peoples, among others. In addition, gender issues were often highlighted by Member States. H.E. Ann Christin Linde, Sweden's Minister for Foreign Affairs, noted that in many parts of the world, women's and girls' rights are constantly being violated. Emphasizing that sexual and reproductive health rights are fundamental human rights, Ms Linde stated that her country will remain a strong voice for the LGBT community. H.E. Mr Emmanuel Macron, President of France, also stressed that his country is committed to combating inequality and that the Africa-France Summit that will take place in June will feature an initiative to support women entrepreneurs. Likewise, H.E. Mr Egils Levits, President of Latvia, stressed that the importance of gender equality and the empowerment of women is not only the right thing , but also a smart thing to do in an economic perspective.
A variety of other social issues were also discussed. H.E. Mr Rodolfo Nin Novoa, Minister for External Affairs of Uruguay, detailed progress made by his country in addressing poverty elimination, climate change and education, adding that Uruguay is one of the few nations in the region to have a robust democracy with strong institutions, and to be unaffected by the prevalent "wave" of corruption. On the topic of environmental emergency, Mr Novoa called on Member States to adhere to the Paris Agreement on Climate Change that is needed for concrete the collective approach and to work towards a carbon-neutral economy by 2050. The President of Colombia, H.E. Mr Iván Duque Márquez, described the ethical, social and political touchstones guiding his country—that celebrated 200 years of independence—as ending extreme poverty, defending democracy, protecting the environment, promoting entrepreneurship, and upholding the rule of law, concepts that also shape its international policy. H.E. Mr Danny Faure, President of Seychelles, also praised multilateralism in the fight against poverty almost 75 years after the United Nations was established. He noted that conflict, economic hardship and climate change persist, and cautioned against a world filled with "disillusioned people who have lost sight of the visions of hope and security that were promised" when the United Nations was founded. In addition, H.E. Mr Alpha Condé, President of Guinea, argued that to fight poverty, his government had set up relevant national agencies for financing local authorities and socioeconomic inclusion, which have led to a greater distribution of wealth.
Another much debated topic was state sovereignty and its complex relationship with globalism. Many speakers agreed that international peace and security are gravely threatened when national sovereignty, independence, and territorial integrity are undermined and violated. H.E. Mr Donald J. Trump, President of the United States, argued that the future of the world belongs to patriots and not globalists, noting that wise leaders place the good of their people and country first. Striking a similar tone, H.E. Mr Jair Messias Bolsonaro, President of Brazil, stressed that respect for freedom and sovereignty are crucial, arguing that the purpose of the UN is not to erase nationalities and overrule sovereignty in the name of an abstract global interest. In response to this, H.E. Mr Donald Tusk, President of the European Council, argued that patriotism in the 21st century must have a global element to it.
The compelling issue of international conflicts was also addressed. Speakers such as H.E. Mr Pedro Sánchez Pérez-Castejón, Prime Minister of Spain, and the Permanent Representative of Canada to the UN, Mr Marc-André Blanchard, underlined the Assembly's mandate to serve as a platform for peaceful dialogue and urged conflict parties around the globe to adhere strictly to international law. Several Heads of State and Government, as well as Ministers, drew attention to escalating tensions in the Strait of Hormuz and recent attacks against Saudi Arabia's oil facilities, fearing that they risk deepening an already fraught situation across the Middle East. Leaders also voiced grave concern that the entrenched conflict in the Occupied Palestinian Territory remains unresolved. One of the most eloquent statements was delivered by the Prime Minister of the Sudan, H.E. Mr Abdalla Hamdok, who spoke about the commitment of his government and the Sudanese people to rebuild and restore the values of human coexistence and social cohesion in the country as they try and turn the page on three decades of "abhorrent oppression, discrimination and warfare".
Furthermore, many speakers expressed dismay over the current international financial system and trade structure that continue to hinder their development. Numerous speakers urged the removal of the per capita criterion, which precludes vulnerable Small Island Developing States (SIDS) from accessing concessional funding. "Big ideas come from small islands," said Mr Danny Faure, President of Seychelles, stressing that for too long small countries like Seychelles have been relegated to the side‑lines of international discourse. The "weaponizing" of trade and the banking system were also highly criticized, and several speakers noted that they must be condemned by all those keen to uphold rules-based trade and financial systems as fundamental to peace, security and prosperity.
In conclusion, many leaders agreed that multilateralism is the best way for countries to unite and achieve universal goals. It promotes the participation of all people in decision-making processes at the national, regional, and international levels. Collaboration and partnerships between nations are fundamental to achieve the 2030 Agenda, while making sure that no one is left behind. The President of the General Assembly underlined the crucial importance of multilateralism in his closing remarks of the UNGA, asserting that the only way to guarantee peace, security and sustainable development is for countries to work together. "It is perfectly legitimate to raise questions about the essence of, and the need for multilateralism," he said. Acknowledging that only 16 of 192 speakers were women, he reassured the world by saying that "this is not what we mean" when we speak of a "representative" United Nations.