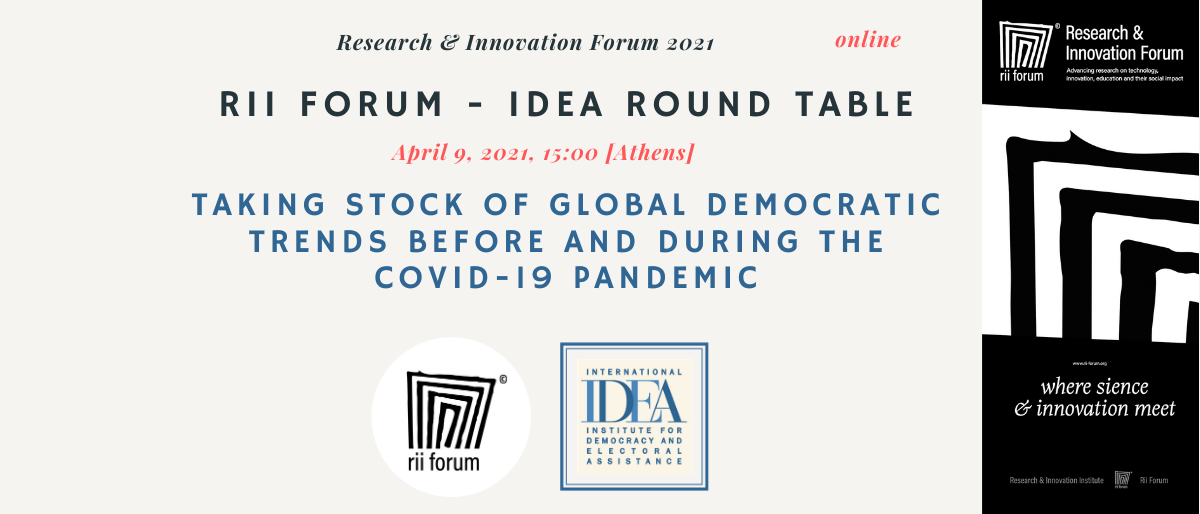 International IDEA in collaboration with the Research and Innovation Forum is organizing a Round Table panel discussion on Friday, 9 April 2021, 14:00 (CEST) to explore the Global Democratic Trends Before and During the Covid-19 Pandemic.
The Research and Innovation Forum (Rii Forum) is an annual conference that brings together researchers, academics and practitioners in conceptually sound inter-and multi-disciplinary, empirically driven debate on key issues influencing the dynamics of social interaction today. Technology, innovation, and education define the rationale behind the Rii Forum and are at the heart of all discussions held during the conference. The Covid-19 pandemic and its social, political and economic implications require a more thorough debate on these issues, and Rii Forum 2021 will be devoted to this end. In particular, the conference will seek to explore how the Covid-19 pandemic has affected:
The establishment and consolidation of alliances among diverse stakeholders;
The weakening of democracy, transparency, and civic and human rights;
The divisions between the Global North and Global South; and
Led to more effective data-driven strategy and policy at local, regional, national and global levels.
The Rii Forum - International IDEA Round Table panel discussion on Global Democratic Trends Before and During the Covid-19 Pandemic will offer an enlightening conversation on the implications of the Covid-19 pandemic on issues such as migration, polarization and inequalities, highlighting how democracy around the world has been affected by the unprecedented crisis. Among other topics, the discussion will offer perspectives on these two pressing issues:
Taking Stock of Global Democratic Trends before and during the Covid-19 Pandemic; and
Elections and Covid-19: Safeguarding health, integrity and trust.
Moderator:
Dr Anna Visvizi, Chair, Rii Forum 2021; Associate Professor, SGH Warsaw School of Economics
Speakers:
Partner Organizations/collaborators:
Research & Innovation Forum
Useful Links / Information: