Back to overview
Technology and Elections in Kenya
11:00 (EAT)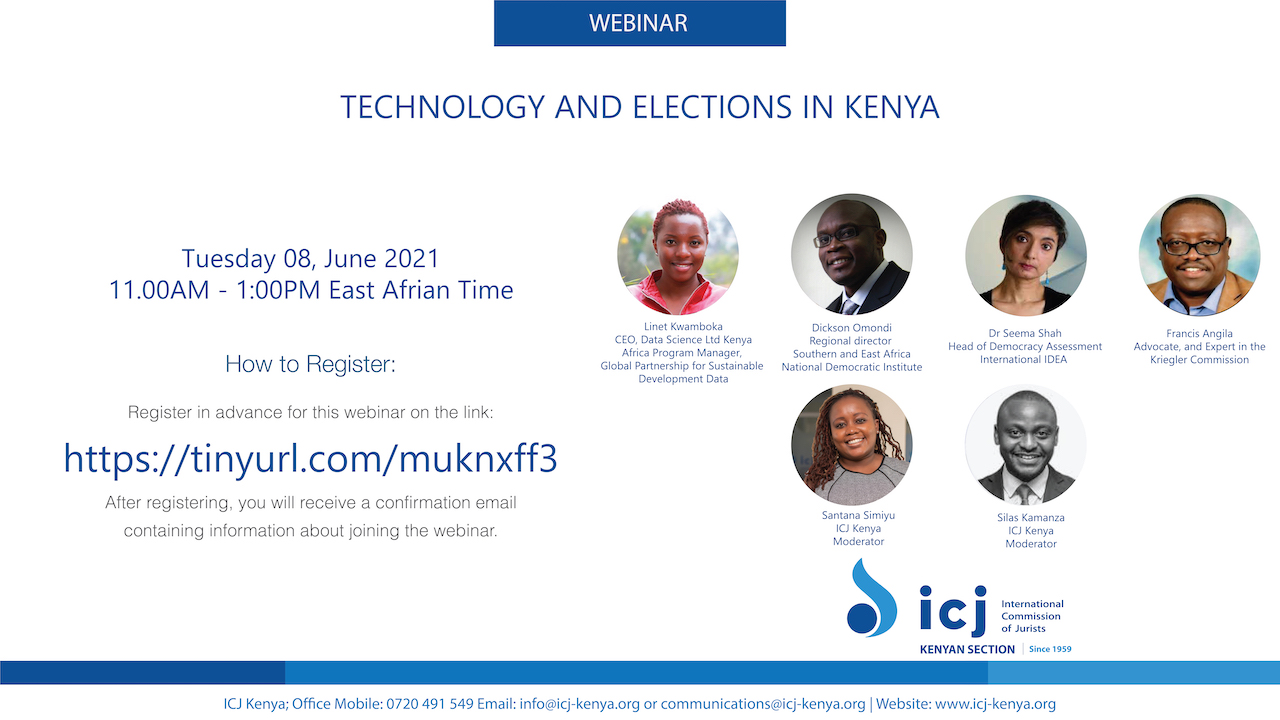 Electoral technology will always play a key role in Kenya's general elections. However, despite substantial investments and expectations raised through the integration of technology, the Independent Electoral and Boundaries Commission (IEBC), in the past, failed to deliver the expected determinacy of the franchise in a single voter register.
The Kenyan Section of the International Commission of Jurists (ICJ Kenya) deems that information technology (IT) and ICT systems are essential to achieving a credible electoral outcome. Nevertheless, the risks and unforeseen challenges these technologies carry will need to be mitigated, and lessons learned from previous elections are taken into account. This is because, globally, the process of integrating technology and elections is increasingly becoming potent. Agreeably, the Covid-19 pandemic will give impetus for Kenya to enhance the use of electronic voting. In addition, stakeholders' consensus on the reliability of technology will be vital if Kenya is to emerge from its current electoral predicament.
Join the conversation together with ICJ Kenya on salient issues of electoral reforms and election management in Kenya ahead of the 2022 general elections. The following questions will guide the discussion:
What challenges were faced in the utilization of technology in the past general elections? Why did the IEBC fail in using electoral technology?
What are the emerging global and regional trends on elections and technology?
What legislative and policy reforms should we address ahead of the 2022 general elections? What should IEBC do next?
Is it possible to achieve a secure IT/ICT system in an election? How can the system be made secure and dependable?
What challenges do we expect in electoral dispute resolution within the context of the Covid-19 pandemic?
What role should all stakeholders, including civil society play in ensuring the integrity of electoral systems?
Panelists:
Dickson Omondi, Regional Director, Southern and East Africa, National Democratic Institute 
Francis Angila, Advocate and Expert in the Kriegler Commission
Linet Kwamboka, Africa Program Manager, the Global Partnership for Sustainable Development Data
Dr Seema Shah, Head of Democracy Assessment, International IDEA
Moderators: