Yemen's 'Peaceful' Transition from Autocracy: Could it have succeeded?
Yemen's so-called peaceful transition process, which began in 2011, was widely considered a success during the initial stages of its implementation, to the extent that other countries were being encouraged to learn from Yemen's experience.
However, given the subsequent and ongoing conflict in Yemen, it is important to revisit this process, and to explore whether the current conflict could have been avoided.
This report examines all aspects of Yemen's transition, including the Gulf Cooperation Council Initiative and its Implementation Mechanism, the restructuring of the military–security apparatus, the National Dialogue Conference and the constitution-drafting committee, as well as related issues such as the discussions that revolved around transitional justice.
While Yemen suffers from a number of underlying social and economic factors that will remain crucial to its development, many of the contributors to the current conflict were linked to the original design of the transition plan. In addition, the manner in which the transition was implemented by specific individuals, institutions and states reduced its chances of success. The report concludes with a series of recommendations for future reform efforts, both in Yemen and beyond.
Details
Publication date
29 March 2016
ISBN
978-91-7671-046-3 (Print)
Contents
Preface
Acknowledgments
Abbreviations
Executive summary
1. Introduction
2. Background
3. The main parties involved in the Yemeni transition, 2011–15
4. Reaching a deal on Yemen's transition
5. The implementation of the transition agreement
6. Restructuring the military–security apparatus
7. The National Dialogue Conference
8. The issue of transitional justice
9. The Constitutional Drafting Committee
10. Parallel developments
11. Conclusion: could Yemen's transition have succeeded?
Annex A. The Gulf Cooperation Council Initiative, May 2011
Annex B. Implementation Mechanism of the GCC Initiative
References and further reading
About the author
Give us feedback
Do you have a question or feedback about this publication? Leave us your feedback, and we'll get back to you
Send feedback
Yemen's 'Peaceful' Transition from Autocracy: Could it have succeeded?
7615
8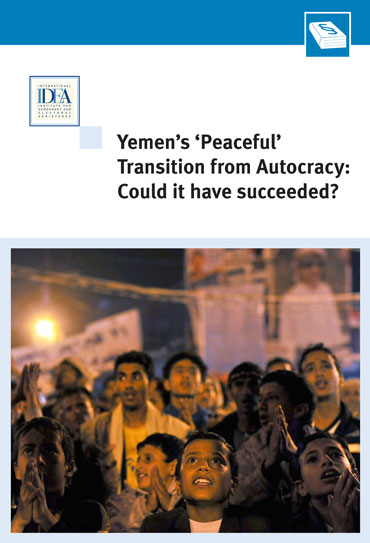 | | |
| --- | --- |
| Total views | 7615 |
| Downloads | 8 |
| Rating | |
Give us feedback
Do you have a question or feedback about this publication? Leave us your feedback, and we'll get back to you
Send feedback