Timing and Sequencing of Transitional Elections
International IDEA Policy Paper No. 18
When elections take place in countries transitioning from authoritarianism to democracy, from deep political crises to stability, or from war to peace, their significance is greater than usual.
In such instances, elections are expected to bring legitimacy of government and contribute to consolidation of democracy, peace and stability. If, however, decisions on the timing and sequencing of transitional elections are not well- thought through, the elections can instead exacerbate tensions and thereby increase the risk of renewal of conflicts or democratic backsliding. This paper provides guidance on how to design decision-making processes so that the elections facilitate rather than undermine democratic transitions.
This Policy Paper draws on lessons learned from 15 case studies of transitional elections from around the world, as well as conclusions derived from three expert workshops, presenting a set of practical recommendations for those involved in decisions concerning the timing and sequencing of transitional elections.
Details
Publication date
09 April 2019
Author(s)
Sead Alihodžić and Nicholas Matatu with Oliver Joseph and Katrin Lewis
ISBN
978-91-7671-240-5 (PDF)
978-91-7671-239-9 (Print)
Contents
Acknowledgements
Key recommendations
Executive summary
1. Introduction
2. Theoretical reflections
3. Lessons learned from the case studies
4. Key conclusions from the expert discussions
5. Recommendations
References and further reading
Abbreviations and acronyms
About the authors
Case studies: Appendix to International IDEA's Policy Paper No. 18
Give us feedback
Do you have a question or feedback about this publication? Leave us your feedback, and we'll get back to you
Send feedback
Timing and Sequencing of Transitional Elections
International IDEA Policy Paper No. 18
11127
35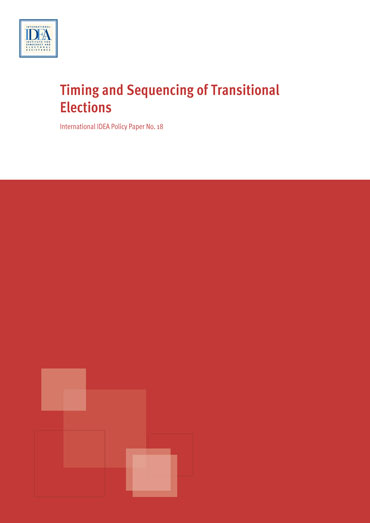 | | |
| --- | --- |
| Total views | 11127 |
| Downloads | 35 |
| Rating | |
Give us feedback
Do you have a question or feedback about this publication? Leave us your feedback, and we'll get back to you
Send feedback