Self-determination
This Constitution Brief introduces the concept of self-determination and its evolution over time, and provides a survey of different approaches to self-determination from comparative constitutional practice.
The MyConstitution project works towards a home-grown and well-informed constitutional culture as an integral part of democratic transition and sustainable peace in Myanmar.
Based on demand by Myanmar stakeholders, expert advisory services are provided to those involved in constitution-building efforts. This Constitution Brief is produced as part of this effort.
Details
Publication date
11 September 2018
Author(s)
Amanda Cats-Baril
Contents
1. Background
2. Evolution of the concept of self-determination
3. Types of self-determination
4. Comparative international practice
5. Other considerations: minorities-within-minorities
6. Conclusion
References and further reading
Give us feedback
Do you have a question or feedback about this publication? Leave us your feedback, and we'll get back to you
Send feedback
Self-determination
5403
12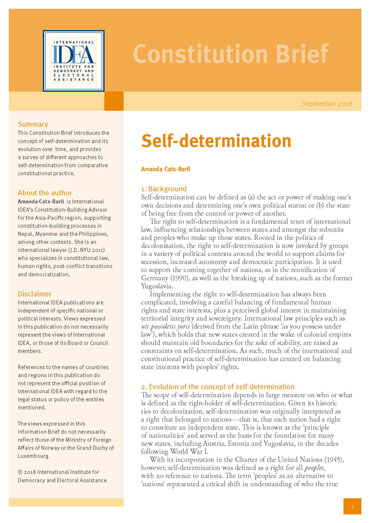 | | |
| --- | --- |
| Total views | 5403 |
| Downloads | 12 |
| Rating | |
Give us feedback
Do you have a question or feedback about this publication? Leave us your feedback, and we'll get back to you
Send feedback