This publication is only available in electronic format
Public participation has become a core element of modern constitution-building.
Robust participation is credited with a range of benefits—from improving individual behaviours and attitudes to democracy to shaping elite bargaining dynamics, improving constitutional content, and strengthening outcomes for democracy and peace. Yet it is not well understood whether and how public participation can achieve these ends. Much of what we think we know about participatory constitution-building remains theoretical. No two processes are alike, and there is no agreed definition of what constitutes a 'participatory process'.
Yet national decision-makers must contend with the key question: What does a robust participation process look like for a particular country, at a particular time, in a particular context? What considerations and principles can be derived from comparative experience to guide decisions?
This Policy Paper unpacks the forms and functions of public participation across different stages of the constitution-building process and considers the ways in which public engagement can influence the dynamics of the process, including political negotiations.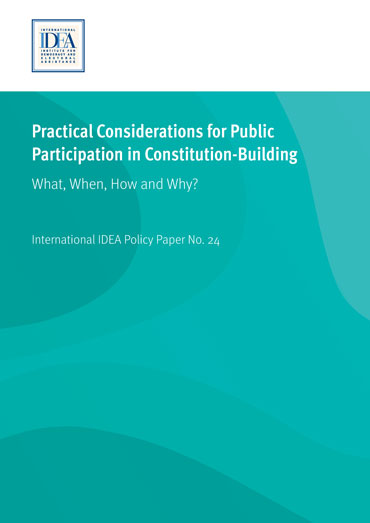 Contents
Acknowledgements
Key recommendations
Executive summary
Introduction
1. Contextual considerations
2. What, when and how? Engaging 'the people' in constitution-building
3. Why? The influence of public participation on constitution-building
4. Strengthening public participation: guiding considerations
Conclusion
References