Gender and Political Parties: Far from parity
The election of four female presidents in Latin America in recent years has drawn attention to women's political participation and their access to political decision-making.
Despite these encouraging results, statistics reveal that the Latin American region is still far from achieving gender equality in politics. Although women are increasingly involved in politics, they still have limited access to leadership positions in political party contexts.
Researchers from 18 countries provided input to the Gender and Political Parties in Latin America database based on a survey of 94 political parties. This report presents an analysis of the information contained in that database.
The purpose of the report is to provide comparative data on women and men in political parties to inform on the situation and challenges of women's political participation.
Details
Publication date
30 January 2012
Author(s)
Vivian Roza, Beatriz Llanos, Gisela Garzón de la Roza
Co-Publisher(s)
Inter-American Development Bank
Contents
Preface
Acknowledgements
Executive summary
Introduction
1. Instruments for promoting gender equality in political parties: From words to deeds
2. Women in political parties: As power increases, women's presence diminishes
3. Selection processes for candidates to elected office and members of party decision-making bodies
4. The supply of candidates and the election of women: Far from parity
5. Conclusions and recommendations
Bibliography
Appendix. Note on methodology
Notes
Give us feedback
Do you have a question or feedback about this publication? Leave us your feedback, and we'll get back to you
Send feedback
Gender and Political Parties: Far from parity
2128
1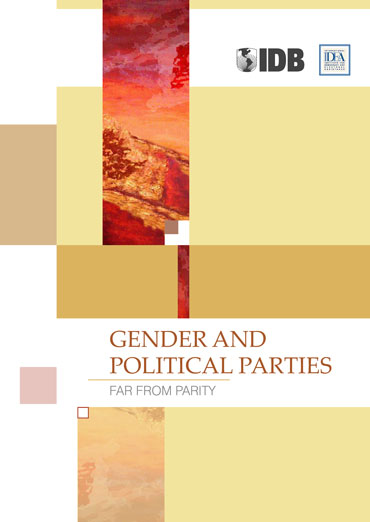 | | |
| --- | --- |
| Total views | 2128 |
| Downloads | 1 |
| Rating | |
Give us feedback
Do you have a question or feedback about this publication? Leave us your feedback, and we'll get back to you
Send feedback