This publication is only available in electronic format
Co-Publisher(s):
United Nations Entity for Gender Equality and the Empowerment of Women (UN Women)
En una sociedad que se informa de política preponderantemente a través de los medios de comunicación masiva y desarrolla en este escenario la competencia electoral, la ausencia en estos espacios durante una campaña puede significar menores posibilidades de ser conocido(a) por parte del electorado, de transmitir propuestas y, en resumen, de apelar al voto.
Por ello, esta investigación, realizada en cinco países, pone el acento en identificar las diferencias y/o desigualdades cuantitativas, pero también cualitativas, que enfrentan las mujeres candidatas en la cobertura de los medios de comunicación durante los 30 días previos a la fecha de las elecciones. Ha sido también una oportunidad para contrastar la escasa importancia que se le asigna a la igualdad de género en la agenda de campaña, lo que pone de manifiesto que aún es un reto pendiente situar este tema en el centro de las preocupaciones públicas.
Los resultados de este estudio fueron recogidos a través de la aplicación de la metodología diseñada por ONU Mujeres e IDEA Internacional, con la participación de organizaciones de la sociedad civil latinoamericanas, que fue presentada en detalle en nuestra reciente publicación Mirando con lentes de género la cobertura electoral. Manual de monitoreo de medios.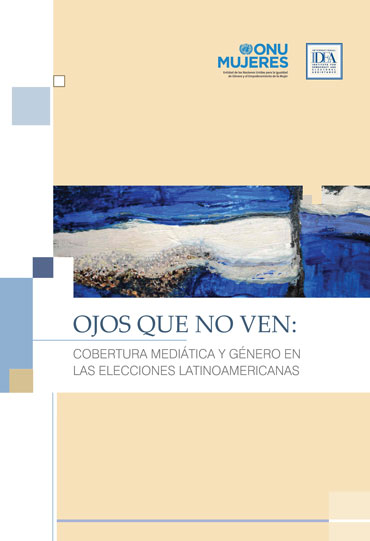 Contents
Prólogo
Introducción
Antecedentes: investigaciones y hallazgos previos en las elecciones del Perú y Uruguay
Criterios y marco para el análisis: aplicación de la metodología de monitoreo de IDEA Internacional y ONU Mujeres
Temas de la campaña electoral: primacía de lo «coyuntural» y ausencia de la «igualdad de género»
¿Hay inequidades en el tratamiento informativo durante la campaña? Comparación de la cobertura de los candidatos y las candidatas
Comparación de la cobertura de los candidatos y las candidatas al Parlamento cuando el medio habló «con voz propia»
Los medios públicos o estatales: mayor responsabilidad, ¿más cobertura?
Estereotipos: parámetros para su identificación
Algunas conclusiones y recomendaciones finales
Notas
Bibliografía
Anexos