The Juba Peace Agreement and the Sudanese Transition: Power Sharing or Democracy Building?
Technical Paper 2, November 2022
The Juba Peace Agreement (JPA), signed on 3 October 2020 by the Government of Sudan and the Sudan Revolutionary Front coalition of armed movement factions and political groups, partially succeeded in halting hostilities between the two sides. The agreement was signed as part of the democratic and peace building arrangements put in place for the transitional period. It opened the door to confidence building and conditions conducive to political consensus and dialogue. These conditions were recognized as necessary before a sustainable peace could be achieved in Sudan following the fall in 2019 of the dictatorship of the National Congress Party under ousted President Omar al-Bashir.
The JPA emphasized many democratic principles, including equality, non-discrimination, a civil and democratic federal state, affirmative action in conflict-affected areas, and transitional justice.
This Technical Paper concludes that in the framework of measures to return to the path of democratic transition and ensure the success of the JPA, it is necessary to make (the process of building sustainable peace) and (the process of transitioning to democracy) complementary so that they are successful, and not separate, undertakings.
Details
Publication date
08 December 2022
Contents
1. The importance of peace to building democracy in Sudan
2. Power sharing and democratic transition
3. The peace agreement redraws the course of democratic transformation
4. Which was implemented: power sharing or democracy building?
5. Consequences of non-implementation of the agreement
6. Modifying the JPA and the role of the UN
7. Conclusion
References
About the author
About International IDEA
Give us feedback
Do you have a question or feedback about this publication? Leave us your feedback, and we'll get back to you
Send feedback
The Juba Peace Agreement and the Sudanese Transition: Power Sharing or Democracy Building?
Technical Paper 2, November 2022
337
6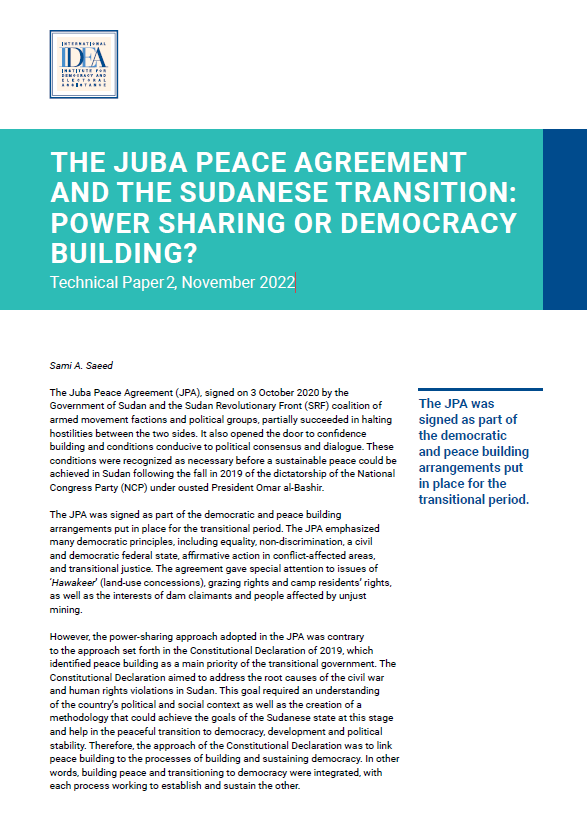 | | |
| --- | --- |
| Total views | 337 |
| Downloads | 6 |
| Rating | |
Authors
Give us feedback
Do you have a question or feedback about this publication? Leave us your feedback, and we'll get back to you
Send feedback