This publication is only available in electronic format
ISBN:
978-91-85724-75-8 (Print)
Political reform has been one of the principal influences on Latin American political development in recent decades, particularly since the beginning of the Third Democratic Wave in the region. This is reflected not only by the great number of reforms that have taken place in most Latin American countries, but also by the constant debate and reflection dedicated to this issue.
This publication aims to analyse the reform processes that have been administered in Mexico and Colombia over the past few years. Despite having different origins, development and results, both experiences illustrate the difficulties and challenges implied in political reform. Furthermore, both experiences demonstrate the importance of context in forging these initiatives, as well as the fundamental role of political and social actors in achieving the necessary consensus and political commitment to move forward.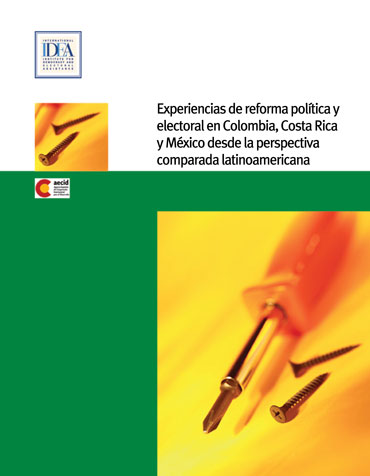 Contents
Presentación
Introducción
LA REFORMA POLÍTICA Y ELECTORAL EN COLOMBIA
Antonio Lizarazo, Juan F. Londoño

Introducción
I. Diagnóstico
II. Algunas líneas de trabajo para avanzar en la reforma política electoral
III. Principales iniciativas de reforma
IV. Post Scriptum: La reforma política aprobada en junio 2009
Anexo 1. Iniciativas de reforma política
Anexo 2. Texto de la reforma constitucional aprobada: Acto legislativo No. 01 de 2009
EL NUEVO CÓDICO ELECTORAL COSTARICENSE
Luis Antonio Sobrado González, Hugo Picado León

Introducción
I. Antecedentes de la reforma electoral
II. El proceso de reforma integral del Código Electoral
III. Aspectos relevantes del nuevo Código Electoral
IV. Conclusiones
Referencias bibliográficas
LA REFORMA ELECTORAL EN MÉXICO 2007-2008: Reporte ejecutivo
Lorenzo Córdova Vianello

I. La reforma electoral y su contexto
II. El mapa de la reforma electoral
III. El aterrizaje legal de la reforma
IV. Los problemas de instrumentación de la reforma electoral. Conclusiones de un ejercicio de reflexión colectiva
REFORMA POLÍTICA Y ELECTORAL EN AMÉRICA LATINA 1978-2007: Lectura regional comparada
Daniel Zovatto, Jesús Orozco

I. Introducción
II. Reformas al régimen de gobierno
III. Reformas al régimen electoral
IV. Reformas al sistema de partidos políticos
V. Conclusiones y reflexiones finales
Bibliografía