This publication is only available in electronic format
The Fijian General Election of 2018 was a significant one- it was only the second election held under a new electoral system and legal framework. In a divided society like Fiji where a high degree of mistrust and lack of confidence in electoral arrangements and institutions exist driven in part by a lack of knowledge and misinformation, it was critical for independent actors like civil society organisations that work across ethnic, religious, political and ideological divides to provide balanced analyses and commentary on different elements of the elections, including the contentious aspects. As an implementing partner in the International IDEA led "Upholding Citizens' Constitutional Rights for Democratic Consolidation in Fiji (C3 project), Dialogue Fiji published a series of articles on different elements of the 2018 elections.
The Fiji C3 project had a key objective to increase citizens' and voters' knowledge of their constitutional rights relating to elections, including increasing their knowledge and understanding of various aspects of elections. This book contains a collection of articles that provide insights on a number of key elements of the 2018 General Elections and provides recommendations for strengthening laws and processes, and improving electoral outcomes and legitimacy in Fiji.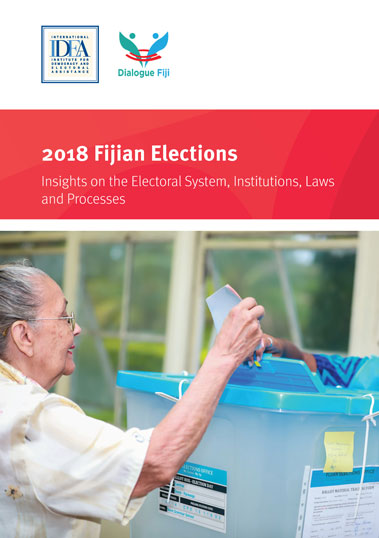 Contents
Foreword
Preface
Acronyms and Abbreviations
1. Our Electoral System
2. Election Threshold
3. Ballot Design
4. Voter Turnout
5. Gender Parity in Political Representation
6. Caretaker Conventions
7. Election Monitoring
8. Media Reporting
About Dialogue Fiji