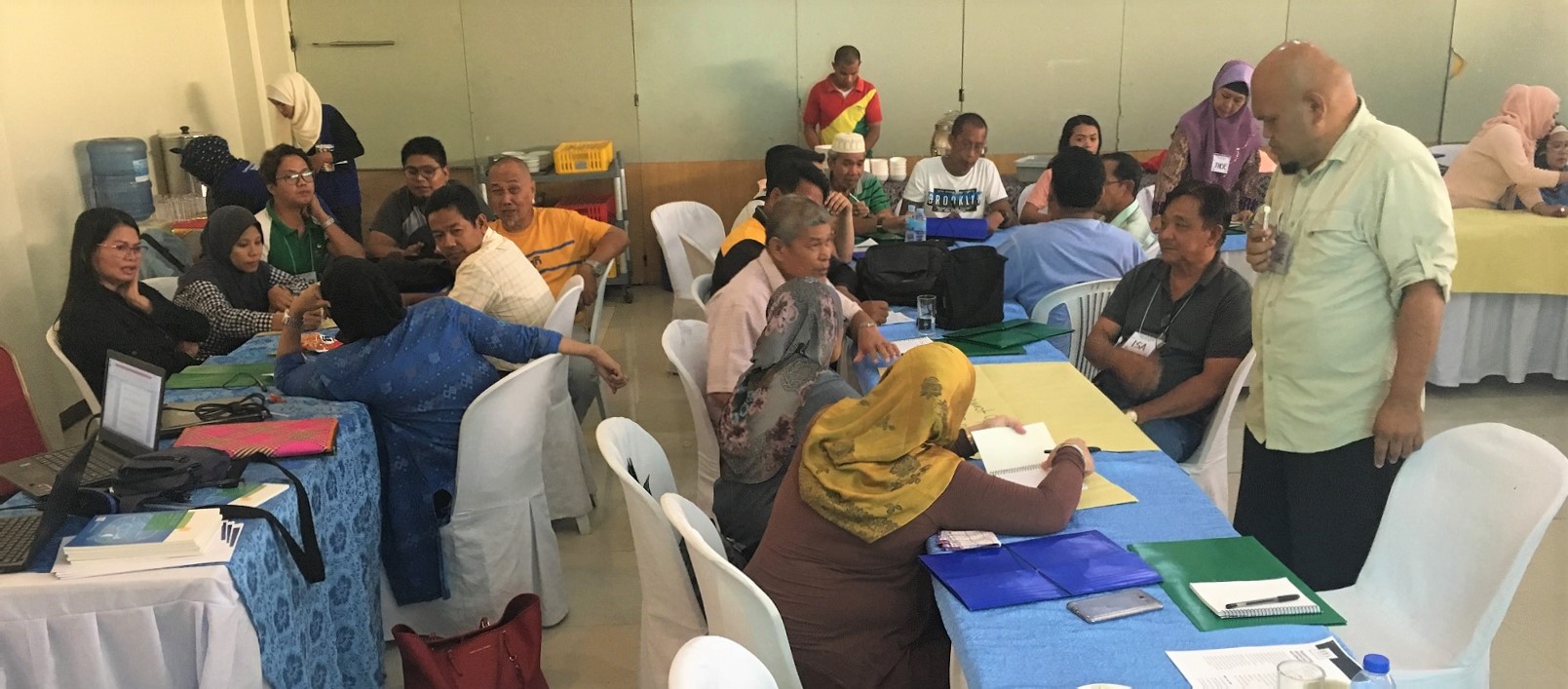 Image credit: CBCS
Democracy building in a post-conflict setting is a complex process requiring strong political and state institutions and processes. Yet, one of the adverse impacts of the prolonged intra-state violent conflict in the Muslim Mindanao region in the Philippines, has been weakening of these very institutions. The conflict has also seriously damaged the social cohesion and trust needed to peacefully transition toward reconstruction and democracy building.
In post-conflict contexts, according to Clare Castilleja (2016), ''political parties give political expression to grievances that may otherwise be expressed through violence, and they aggregate and articulate the interests of citizens during both peace negotiations, transition processes and more broadly in post-conflict state-building''.
 
On 15-16 October 2019, International IDEA and the Consortium of Bangsamoro Civil Society (CBCS) facilitated a strategic planning workshop for civil society representatives on establishing political parties in the Bangsamoro Autonomous Region in Muslim Mindanao (BARMM).
This initial workshop was intended to assist participants to gain knowledge on political party organization in post-conflict situations, to understand the challenges and opportunities for political parties and to brainstorm and conceptualize the planning process for party building in BARMM.
To set the context, Mr Guiamel Alim, Chairperson of CBCS outlined the Bangsamoro landscape including an overview of the Bangsamoro struggle. He stressed that this workshop is critical to finding answers to a number of key questions including: whether there is need for political party-building in BARMM; and added value for the CSOs in supporting the formation and strengthening of political parties. Professor Sahie Udjah, Member of the Parliament, Bangsamoro Transition Authority spoke of the challenges for political parties in BARMM, while Dr Latiph Akram, Executive Director of the Institute for Peace and Development in Mindanao, MSU-Marawi discussed the engagement between civil society and political parties in the Philippine and BARMM context.
The Bangsamoro region held a successful referendum in early 2019, the outcome of which was creation of the Bangsamoro Autonomous Region in Muslim Mindanao or BARMM. Much as BARMM is a major milestone towards sustainable peace and democratic transition in this historically restive region, BARMM still has several fundamental challenges to overcome. These include adopting a parliamentary form of government and ensuring a "principled, genuine political party system" as called for in the ratified Bangsamoro Organic Law (Art IV, Sec 4). Various civil society groups and other stakeholders expressed the need to organize and strengthen political parties ahead of the first Parliamentary elections in 2022.
 
This workshop, therefore, provided a platform to showcase relevant tools for strategic planning and comparative experiences regarding the role of political parties in post-assessment or post-conflict situations like BARMM. It also allowed participants to go through a guided step-by-step process of conceptualising political party organisational structures, ideology formation and mechanisms for engagement with citizens, using International IDEA's Strategic Planning for Political Parties: A Practical Tool. The methodology of this tool as well as comparative experiences shared by International IDEA enabled the participants to reflect and respond to challenges and opportunities posed by the current Bangsamoro transition context, in relation to political party building. In addition, IDEA also shared the youth democracy academy as an information and educational resource on democratic values, institutions and processes.
The outcome of the workshop was an action plan developed by participants, detailing a roadmap to be followed by CBCS in the next steps to operationalize the formation of regional political parties. This action plan particularly emphasizes the importance of securing buy-in from CBCS's grassroots structures, as well as the imperative to engage other regional stakeholders that have interest in political governance of BARMM.
 
The workshop was attended by more than 50 representatives from various civil society groups from five provinces of BARMM including members of indigenous people's groups, youth and women's organizations.