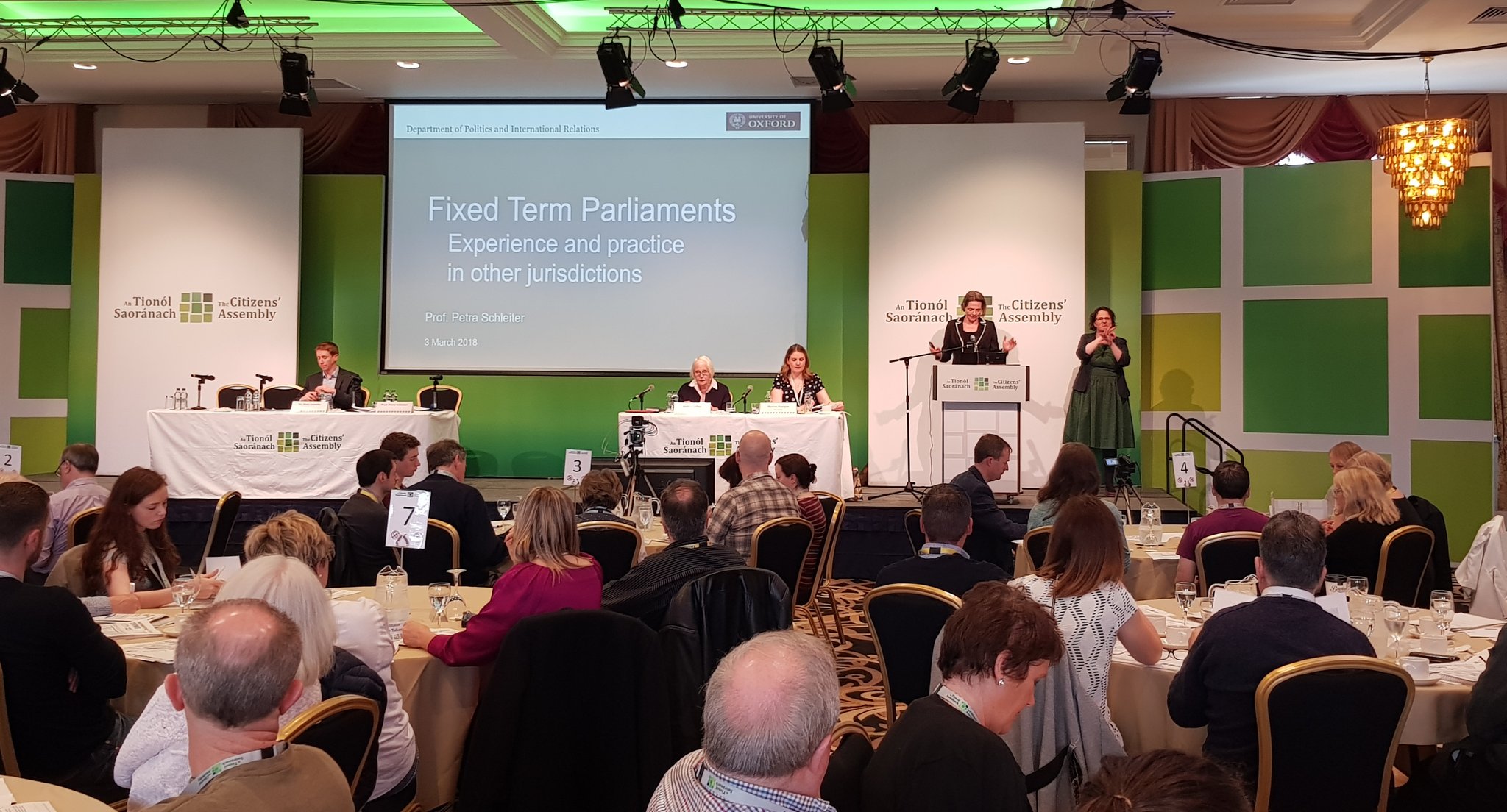 Irish Citizens Assembly in Action. Image: Irish Citizens Assembly
The recent Irish constitutional referendum on abortion made global news, but what is less known to the international public is that the proposal for change came from a group of 100 randomly selected Irish citizens which formed a "Citizens' Assembly", tasked with meeting, receiving public submissions and expert presentations, deliberating and producing recommendations.
Random assemblies such as these are becoming an increasingly familiar sight in contexts of constitutional change. They have been used to deliberate on and recommend changes to electoral systems in Canada (British Columbia and Ontario) and the Netherlands, for amendments to the Constitution in Mongolia and to draft an entirely new Constitution in Iceland.  Sometimes these recommendations have been successful (as in Ireland for both the abortion and same-sex marriage), and in other cases they are rejected (as in Iceland).  Regardless, random assemblies are becoming an increasingly interesting mechanism for public participation in constitutional change.
The role of the public in constitution building has a long and troubled history. Despite "We the people" being the most common phrase found in constitutional preambles, until very recently the public's role in constitutional change was tightly circumscribed, initially to only election of representatives or more recently to a referendum. In the past two decades, consultation of the public in drafting constitutions, or amendments to constitutions, has fast become an international norm —even in Vietnam, the government conducted public consultations in the development of its 2013 Constitution.
However, there has also been broad dissatisfaction with the way in which public consultations have been used. Usually, public consultations include everything from Facebook posts to town-hall meetings, and in all the noise it is difficult, or impossible, to discern what 'the people' have actually said. This opacity also makes it easier for elites to ignore the voice of the general public.
Further, who actually participates in public consultations is another concern. As they depend on self-selection in terms of who participates, public consultations are often dominated by civil society networks from large cities, and traditionally marginalised groups are often left out. 
Random assemblies may offer some solutions in this regard.  They are random but weighted to ensure an accurate reflection of society at large; and as they vote there is more clarity regarding what is being proposed. Further, the pedagogical and deliberative settings of random assemblies have been shown both to moderate extremist opinions, and to generate broad public trust in the decisions of the assembly.
As random assemblies begin to become more common, International IDEA is spearheading an initiative with the Center for Deliberative Democracy at Stanford University and UNDP to develop guidance on good practice on the use of random assemblies in constitution building processes.  On the partnership with International IDEA, Professor James Fishkin, Director of the Center for Deliberative Democracy comments: 'Having worked on the theory and practice of deliberative democracy for many years in different settings, we are excited to partner with International IDEA, known for their on-the-ground established expertise in constituent process, to examine together the role of random assemblies in constitution making.'
The initiative will include a gathering of leading academics on the subjects of deliberative democracy and random assemblies, and practitioners who have led random assemblies throughout the world.  With regards to the event, taking place at UNDP in November 2018, Jason Gluck, Policy Specialist for Political Dialogues and Constitutional Processes comments: "Citizen Assemblies offer intriguing possibilities for innovative ways of engaging citizens and increasing meaningful participation in constitutional reform processes.  As thought leaders in the area constitution making, UNDP and International IDEA are excited to bring together those who have experienced citizen assemblies first-hand in order to draw out lessons and good practices that can be contextualised and strategically considered in a range of constitutional reform contexts."
In 2019, the partners will develop a guidance note for future practice on whether, in what contexts and how random assemblies can best be used to put the "We the People" back in constitution building.