Back to overview
Post Summit for Democracy Dialogue: Analyzing country commitments and exploring opportunities for engagement - Key Takeaways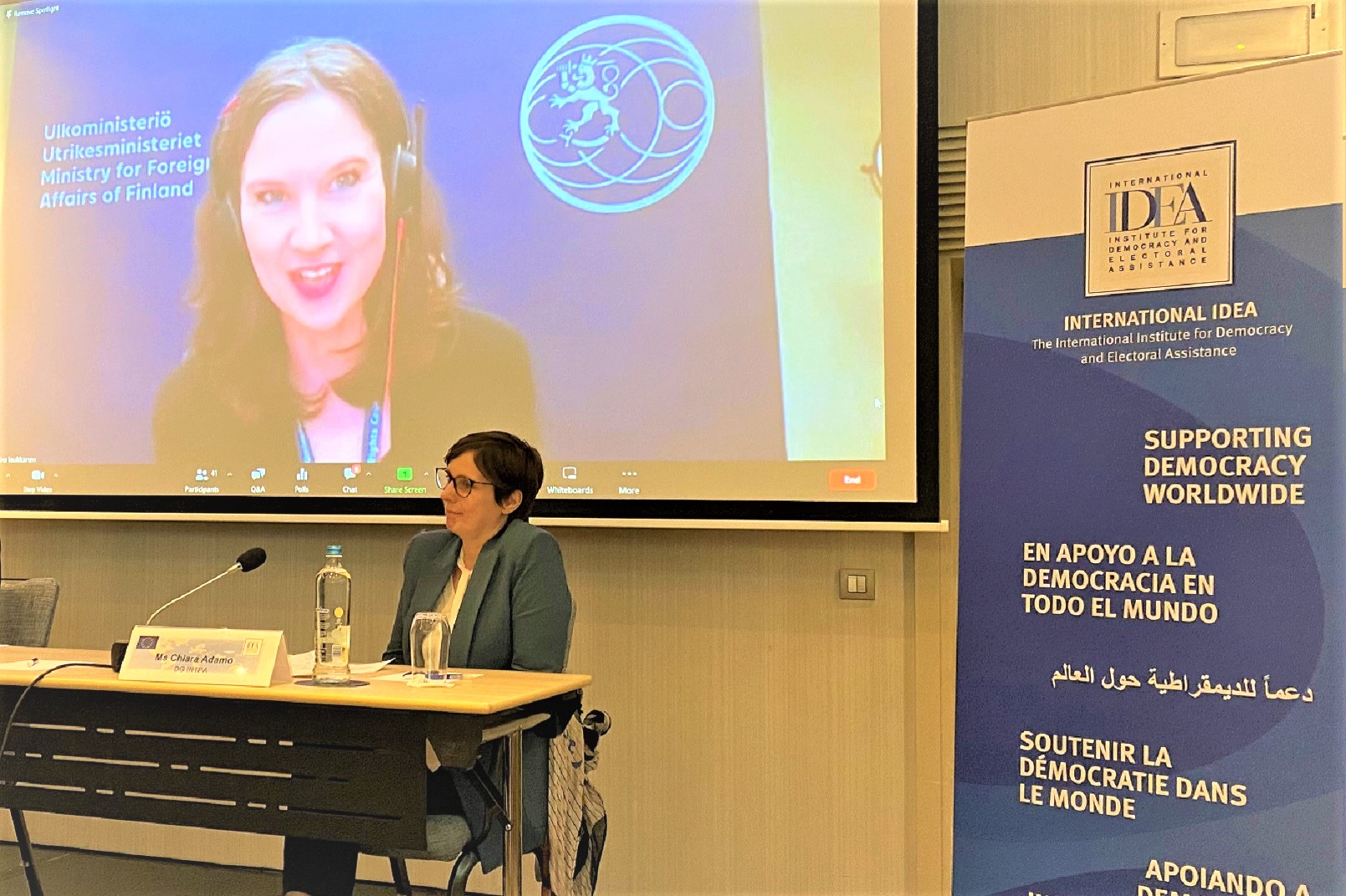 Finnish State Secretary Ms Johanna Sumuvuori and Chiara Adamo, Acting Director for Human Development, Migration, Governance and Peace in the Directorate General for International Partnerships, European Commission. Image credit: International IDEA.
"These are dark days for democracy. That is why the Summit for Democracy and its further efforts to connect governments and civil society around government and reform commitments are so important." Dr Kevin Casas-Zamora, Secretary-General of International IDEA
The International Institute for Electoral and Democracy Assistance (International IDEA) and the European Commission held a hybrid event in Brussels on 20 June 2022; Post Summit for Democracy (S4D) Dialogue: Analysing country commitments and exploring opportunities for engagement.

Representatives from the EU, EU Member States, government representatives from outside the EU and civil society exchanged insights on how to galvanize momentum and renew concrete commitments; how stakeholders can contribute to the Summit and make sure it is inclusive; and how joint efforts, especially through the Team Europe Democracy (TED) initiative, can bring added value to the Summit. International IDEA also presented the main findings from its recent report, 'Unpacking the Summit for Democracy Commitments' which includes in-depth analysis of country commitments and a presentation of options and opportunities for the Year of Action and second Summit.
The Post Summit for Democracy Dialogue speakers highlighted opportunities and challenges related to the Summit for Democracy (S4D) process. They agreed that the S4D process provides a much needed and unique space to bring together a diverse set of countries around common democratic goals. The Summit is also an opportunity to bring together issues that are usually treated in thematic silos, connect complex ideas, and link them to a broader democracy agenda. Finally, the S4D process has allowed to initiate a new democratic reflection at home and better democracy assistance coordination abroad, helping to avoid duplication and ensuring that responses are adequate to support those in need.
However, the S4D process has also seen some important challenges, including the fact that commitments are voluntary and that there is no adequate accountability mechanism. Written commitments are central to the accountability of the S4D process, as they can be monitored, and governments held to account. As the report 'Unpacking the Summit for Democracy Commitments' shows, the most ailing democracies did not submit written commitments and most hybrid and authoritarian regimes excluded from the S4D process altogether. Reversing the authoritarian trend will not be possible if only the most consolidated democracies commit to improvements and allow the hybrid and authoritarian regimes off the hook. Independent monitoring efforts should systematically check gaps between commitments and implementation and point out areas for improvement.
Despite these drawbacks, many countries continue to embrace the S4D objectives and stakeholders across the world look at the S4D process as a unique opportunity for democratic discussion and renewal. It provides us with a unique opportunity to survey the opinions of countries on how they perceive the quality of their democracy, what they decide to prioritize, and where and how countries see their involvement. It is important that, during this Year of Action, countries keep a long-term perspective in bringing commitments to life, acting in delivering commitments but also look for opportunities to collaborate. Solutions will be collective and must be achieved through an inclusive process across all countries and with citizens, civil society organizations and stakeholders.
Participants of the Post Summit Dialogue offered a wide range of perspectives on the S4D objectives and process, which can be summarized as follows:
Democratic defence and renewal need to be supported through thoughtful and continuous evidence-based collective action, increased local and cross-border activities, and more diverse civic action. Gender equality and youth participation will be key to this effort.
Commitments should not only be about words but about action and implementation. In developing and implementing commitments, accountability, responsiveness, inclusiveness and transparency are key.
A structured monitoring system with consistent and publicly accessible data are needed to ensure that commitments are followed up on and no countries are free from international scrutiny, whether or not they are engaged in the S4D process.
Although much of the civil society action around the Summit has been self-initiated, it has led to vibrant and active cooperation. More engagement is needed, especially because there is little public awareness of S4D process, the content of commitments and tracking of progress.
Awareness-raising can help citizens and other stakeholders understand what commitments mean for them and can generate ownership at national level. Meaningful and structured dialogues, more explicit accountability mechanisms and clearer commitments could improve public participation in the S4D process.
The Summit must not become another exercise between the world's most established democracies. To better create and stimulate partnerships and global alliances, consistent, structured and meaningful engagement with countries beyond the European Union is needed. Countries are encouraged to reach out to other countries and use that momentum to collaborate.
Civic voices are crucial for durable change, but political will at the top is equally important. Democracy supporters should not forget that pressure from citizens and civil society is just as essential as having committed reformers within the government and bureaucracy.
Development cooperation should be equally coordinated at headquarters and on the ground, requiring close and consistent cooperation between different levels. Cooperation should not be limited to democracy-specific organizations, but also include indirect/implicit champions of democracy.
Joint strategy building and experience-sharing is needed. To better observe patterns of autocratisation and choose the most suitable instruments for respective contexts, joint action should be intensified.
Multilateral initiatives can be important to unite and galvanize democracy defenders. However, it is important that to cooperate and coordinate internationally to ensure that initiatives do not over proliferate and hinder effective cooperation.
The democracy cohorts, which will bring together governments that demonstrate political will towards progress on Summit commitments in a specific issue area with key non-governmental organizations, need to reflect the diversity of countries that participated in the S4D.
The significance of the security dimension for democracy after Russia's unjustified invasion of Ukraine was a focus of many discussions: cooperation among democracies and with civil society is needed to defend democracy and peace in the world.  
The Post Summit Dialogue concluded with three recommendations ahead of next year's second Summit:
Consideration should be given to enhancing transparency around the invitation criteria to the second Summit. Key to this process could be the use of democracy data from International IDEA and other organizations to support finding the right balance.
Accountability mechanisms should be clarified. It is currently not clear to whom the commitments are made—to the US government, the international community of democracies, or the citizens. Commitments should be made to the citizens, but this process will require more citizen involvement and transparency.
The current timeframe and commitments will not be enough to reverse the global trend towards authoritarianism. Democracy takes time to build, and we must already be thinking about what comes next and how this should be done. The process after the second Summit is uncertain, offering the opportunity for the democracy community to present innovative ideas for the path forward.
Key facts and findings from the 'Unpacking the Summit for Democracy Commitments' report:
100 countries were invited to the first Summit and 98 attended, of which 38 countries from Europe, 27 from the Americas, 15 from Africa and Asia respectively and 2 from the Middle East.
13 democracies were not invited. While several of these countries have faced serious democratic challenges recently, blocking them out could send the wrong message to fragile democracies undergoing transitions.
The inclusion of certain non-democracies on the guest list while leaving out democracies was criticized for a lack of transparency and consistency around selection criteria.
Written commitments were submitted by more than 60 per cent of attendees, with the majority (86 per cent) from healthy democracies and 41 per cent from EU Member States. Less than half of weak or backsliding democracies submitted commitments.
88 per cent of countries focussed on domestic commitments and 73 per cent focussed on strengthening democracy abroad. 36 countries did both,17 of which came from EU Member States. 
Corruption topped both domestic and international commitments, with other priority issues including gender equality, media freedom, civil society strengthening and elections. Among EU Member States, main topics at home were corruption, social rights and equality and media freedom. Abroad, main topics were civil society, gender equality and corruption.
The US had the highest number of commitment areas, with more than 12, followed by Croatia, Italy and Kosovo. Slovakia and Taiwan also stood out for breadth of commitments at home and abroad, and Malawi stood out for breadth at home.
The event was conducted as a part of International IDEA's comprehensive programme of activities around the Summit process to help advance the Summit's agenda, with support from the EU. International IDEA is working to provide data and analysis of commitments, and how they link to democratic performance of countries, and to broaden Summit discussions to more voices in the lead up to the second Summit in 2023.
Together with Freedom House and the EU, International IDEA has developed a Summit for Democracy Commitment dashboard, which can search Summit commitments by country and check against democratic performance. The dashboard is targeted both towards countries engaged in the Sumit process and also to civil society organizations and others that are interested in independently monitoring how these commitments are being implemented. The dashboard contains information on the 111 countries that hosted or were invited to the first Summit, and their main priorities are outlined both in their verbal statements at the summit and through their written commitments submitted after. As countries begin to report on the implementation, and as independent civil society monitoring efforts are put into place, International IDEA hopes to turn this dashboard into a monitoring platform for the Summit.