Back to overview
Political finance transparency as part of the Open Government Partnership (OGP)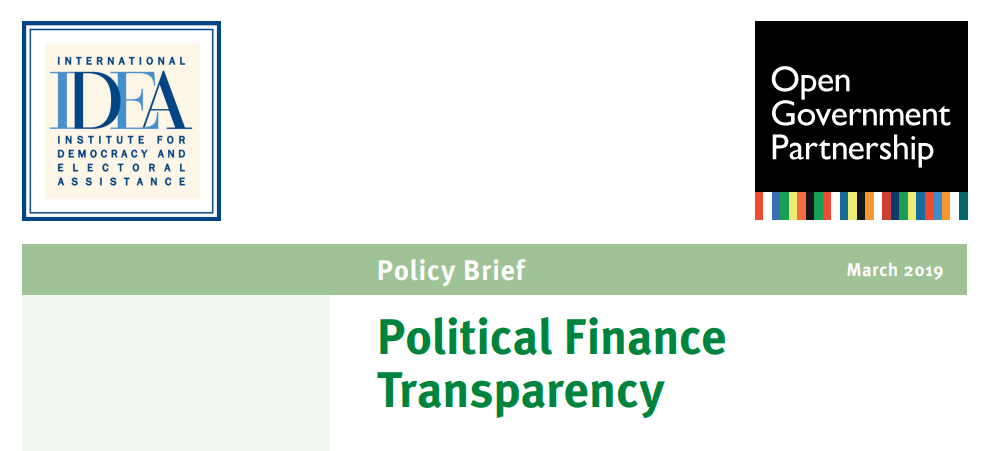 A lack of information on how much money circulates in and around elections, where resources are coming from and how they are spent could facilitate corruption and undermine integrity of political participation and representation. Transparency in the funding of political parties and election campaigns plays a key role in advancing global anti-corruption agenda. The adoption of commitments on political finance transparency as part of the Open Government Partnership (OGP) is an important step in that direction. In order to support this reform process, International IDEA and the OGP have recently published a Policy Brief. 
This Policy Brief discusses the importance of increasing political finance transparency in order to:
prevent an "arms race" in election spending;
level the political and electoral playing filed;
keep illicit and criminal money out of politics and elections;
promote the political participation of women and other marginalised groups; and
incentivise compliance with political finance regulations.
For example, greater transparency in political finance supports the control of campaign spending. According to International IDEA's Political Finance Database, about 31 per cent of countries currently impose limits on the amount of money a party can spend, and over 45 per cent restrict individual candidate spending. In order to ensure compliance of such provisions, spending limits must be coupled with diligent reporting and enhanced transparency. Publicly disclosed political finance information can be a key deterrent against excessive campaign spending. Similarly, greater transparency in political finance sheds light on the difficulties faced by women, youth and other marginalised groups when raising necessary funds to run for political office. Gender-targeted political finance measures can be introduced to promote the participation and representation of women and marginalised groups. For example, over 30 countries currently adopt some forms of gender-targeted public funding to promote the nomination and election of women into politics.
As highlighted by the Policy Brief, greater transparency in political finance can only be achieved by engaging all stakeholders such as political parties, oversight agencies, parliaments and civil society actors. The reform processes will hinge on the including of, and dialogue among, all these sectors of society. For more than 15 years, International IDEA has been engaged in convening national dialogues and generating consensus on reforms of regulatory frameworks, developing the capacity of key political finance actors such as parliaments, oversight agencies and political parties, and producing comparative knowledge to set the global agenda on money in politics. Following the last year's Memorandum of Understanding between International IDEA and the OGP, both organizations are committed to work closely together in supporting public and private institutions in the areas of political finance, citizen engagement and gender. International IDEA and the OGP stand ready to offer assistance to the countries currently discussing the adoption of OGP National Action Plans, particularly concerning the potential adoption of commitments to advance political finance transparency.