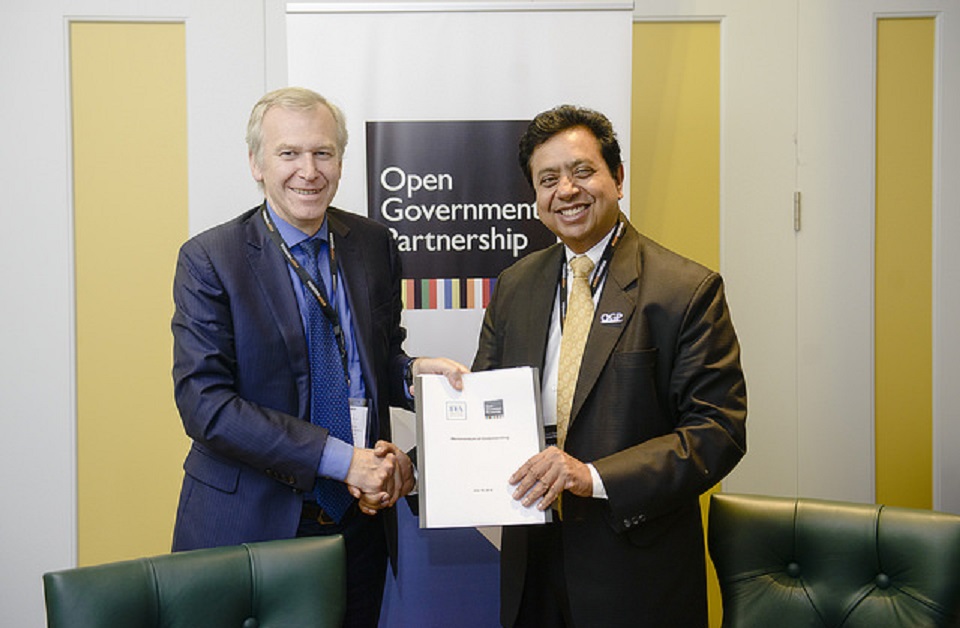 International IDEA Secretary-General Yves Leterme (left) and Open Government Partnership CEO Sanjay Pradhan following an MoU signing on 18 July 2018. Photo credit: Open Government Partnership ( all rights reserved OGP).
The International Institute for Democracy and Electoral Assistance (International IDEA) and the Open Government Partnership (OGP) signed a memorandum of understanding to work closely together in supporting public and private institutions in the areas of political finance, citizen engagement and gender.
By raising awareness and through the sharing of knowledge and networks, International IDEA and OGP look to build on each other's expertise to advance multi-stakeholder collaborations for the increased transparency and accountability of governments. International IDEA's work will complement OGP's mission of making governments more open and accessible to citizens.
The memorandum of understanding (MoU) highlights the importance of joint activities, including building relationships with decision makers at the international policy level, supporting open government reforms and implementation at the country level, and conceptualizing an open government approach to political finance.
"International IDEA is committed to improving political finance regulation and oversight. It is critical to healthy democratic processes", said International IDEA Secretary-General Yves Leterme. "We are pleased to have a partner in OGP that also recognizes and is taking action to address the need for greater transparency as the future of money in politics becomes increasingly digital."
OGP CEO Sanjay Pradhan welcomes the MoU and looks forward to working closely with International IDEA to create more accountable, inclusive, and responsive governments for all.
"Open Government Partnership is delighted to work with a close ally like International IDEA who is a trusted advisor of a diverse mix of stakeholders on issues like citizen engagement and reinvigorating democracy. IDEA's expertise and reach and OGP's ability to leverage political support that transforms ideas into commitments can prove to be a very powerful combination," Pradhan said.
This MoU builds on shared interests as during the OGP Global Summit 2018, Leterme shared his remarks on money in politics and International IDEA presented at five panel sessions there, which gave visibility to political finance and the new technologies in democracy to an audience of global civil society and government experts.
In the coming months, International IDEA and OGP will offer their assistance to the countries currently discussing the adoption of new OGP National Action Plans, particularly concerning the potential adoption of commitments to advance political finance transparency.
The MoU was signed by Leterme and Pradhan on 18 July 2018 before staff from both organizations.