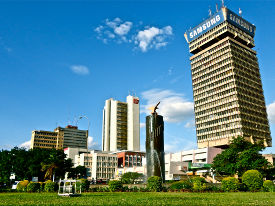 Political parties in Zambia take on the challenge to go beyond promises and institutionalise gender equality. Following a roundtable discussion, organised by International IDEA and the Foundation for Democratic Processes of Zambia, the five main parties in the National Assembly have signed an official communique, showing their commitment achieve greater gender equality in Zambian politics.
The communique, signed on June 1st, stipulates the political parties' critical concern on the persistent gender inequalities in Zambian politics, and defines the strategies they will implement in order to achieve greater equality in preparation of the 2016 national elections.
Both the roundtable discussion, held at the end of April, and the signing of the official communique were attended by the Minister of Gender and Child Development, Professor Nkandu Luo. The five political parties - the Alliance for Development and Democracy, Forum for Democracy and Development, Movement for Multiparty Democracy, Patriotic Front and the United Party for National Development - were represented by National Secretaries, Executive Committee and Chairpersons of the Women's Departments.
The minister applauded International IDEA and FODEP for their work on promoting gender equality and women's political empowerment in Zambia as the institutions' efforts naturally support the mandate of the Ministry.
Under the coordination of the Africa Regional Programme, International IDEA's past efforts and ongoing initiatives in Zambia have led to successful inter-party dialogues and cooperation on addressing gender inequalities and promoting women's political empowerment. In addition, these platforms have enhanced collaborative engagement between the Ministry of Gender, political parties and civil society organisations such as FODEP.
A significant milestone is the ongoing drafting of gender policies that was initiated at the roundtable discussion in April. The development of the political parties' gender policies in Zambia is one of the practical approaches for the application of the "Framework of a Model Gender Policy for a Political Party", which will be published later this year under International IDEA's Democracy and Gender Programme.