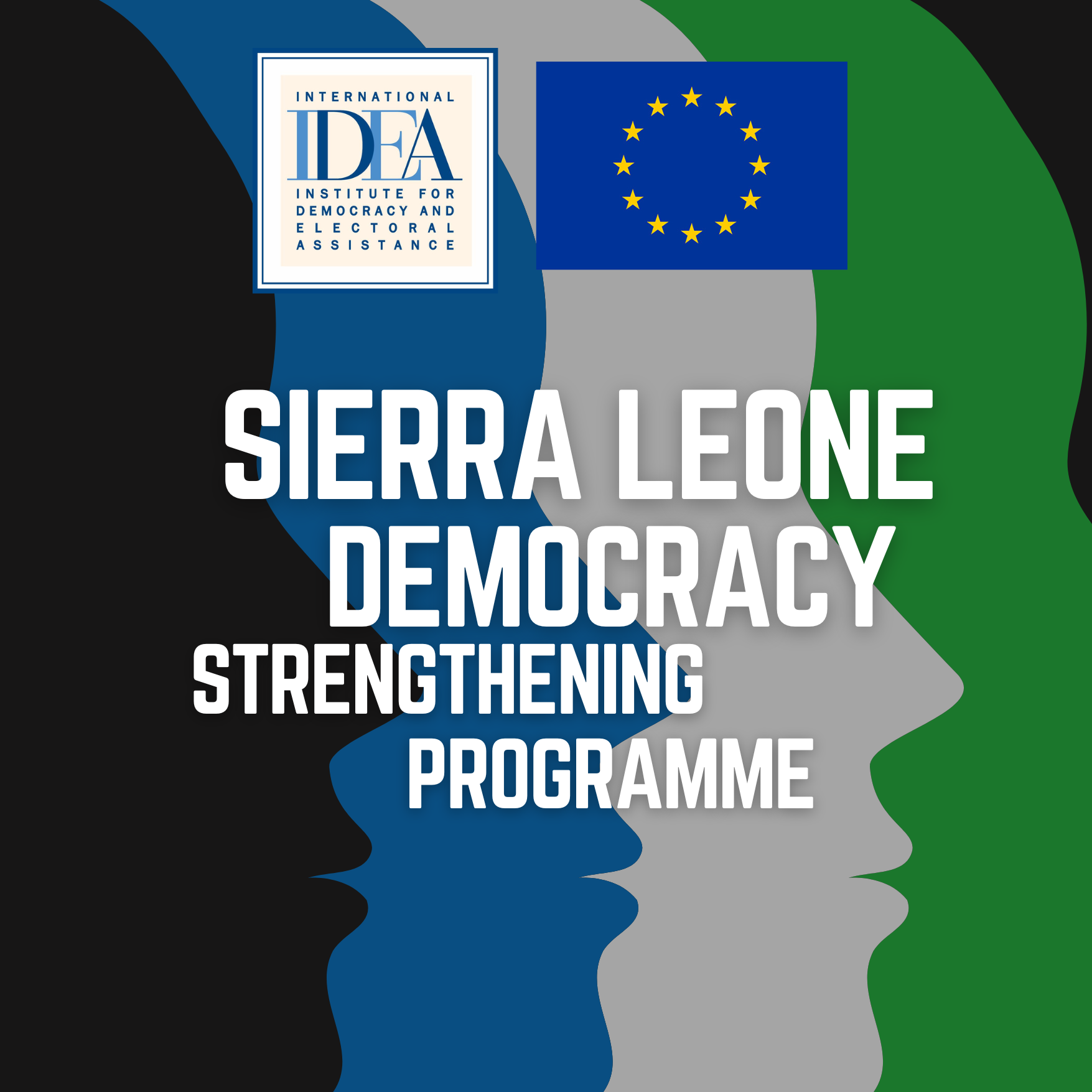 Sierra Leone is a country located in West Africa with a population of around 7 million people. Having faced a long-standing civil war, the country experienced a difficult transition to democracy.
The road to democracy has been slow and challenging with the development of a stable democracy has been marred by violence and political instability. To strengthen its budding democracy, Sierra Leone partnered with the International Institute for Democracy and Electoral Assistance (International IDEA), the European Union (EU), and several key local organizations to create the Sierra Leone Democracy Strengthening Programme (SLDSP).
The SLDSP recognizes that to create a sustainable democracy, specific areas require strengthening. In Sierra Leone, four primary institutions make up the pillars of democracy; the Political party Regulation Commission (PPRC), the Electoral Commission of Sierra Leone (ECSL), the Independent Media Commission (IMC), and the National Commission for Democracy (NCD), and other institutional bodies like the National Council for Civic Education, Development (NaCCED), and National Civil Society Organisations. The SLDSP's primary focus is on electoral processes and political participation and representation.
The programme's specific objectives are to ensure that women, youth, and marginalized groups become more engaged and involved in the democratic process, electoral management bodies operate with increased transparency and efficiency, and the media actively promote democratic values, principles, and practices. To achieve these objectives, the SLDSP works with political parties, local governance structures, media actors, civil society, and other stakeholders to ensure broad-based engagement and inclusivity for the long-term development of democracy in Sierra Leone.
International IDEA signed a Memorandum of Understanding (MoU) with the Electoral Commission of Sierra Leone (ECSL), which served as a framework for its work with the various governmental institutions and agencies responsible for promoting and conducting elections in the country. As part of the MoU, International IDEA works with key government entities and civil society to promote free and fair elections, as well as ensure the strengthening of the institutional and regulatory framework for electoral management in Sierra Leone.
The EU funded SLDSP recognizes that creating substantial, lasting change in Sierra Leone's democratic landscape will require broad-based partnerships and the collective efforts of all stakeholders. By building trust, accountability, and transparency, International IDEA and its partners are taking important strides in creating an environment conducive to free and fair elections and sustained, democratic growth.
The Sierra Leone Democracy Strengthening Programme serves as an essential collaborative effort aimed at building a sustainable, democratic state in Sierra Leone. By bringing together key governmental, civil society, and media players, the programme is helping to create an inclusive and transparent democratic system that can address the needs of all Sierra Leoneans. With sustained effort, the SLDSP can help the country move towards a resilient and lasting democracy that benefits everyone