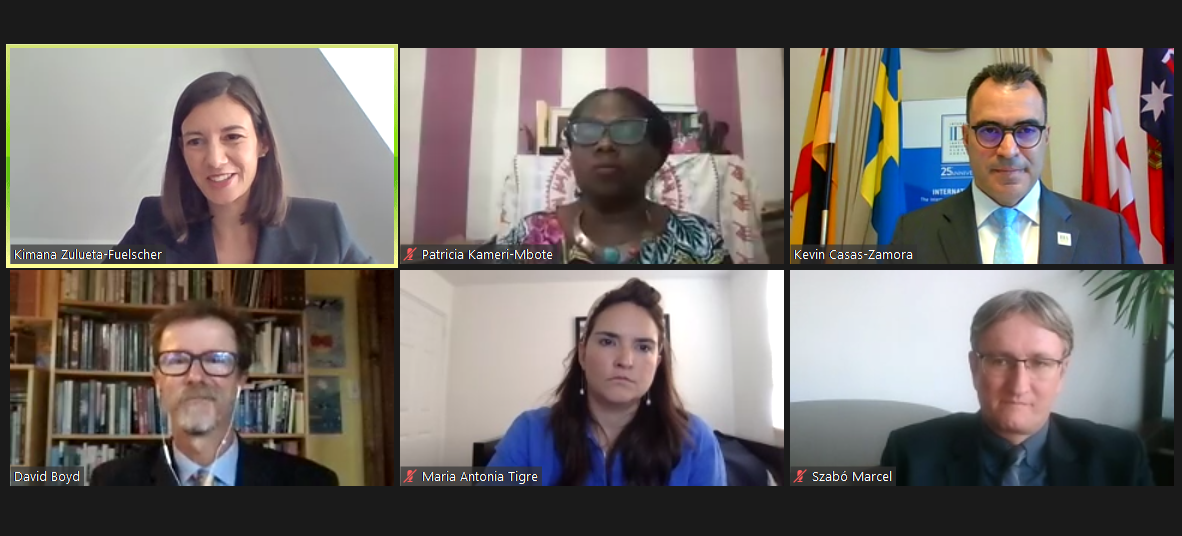 Image credit: International IDEA
The Secretary-General of International IDEA, Dr Kevin Casas-Zamora, took part in the "Constitutionalizing Institutions for a Safer Environment webinar organized by the Institute's Constitution-Building Programme on 16 September 2021. The event was part of the programme's new webinar series on Conversations on Innovative Constitutional Design Options.
The webinar was opened by Dr David R. Boyd, the Special Rapporteur on Human Rights and the Environment to the United Nations. Other discussants were the Director of the Law Division at United Nations Environment Programme, Professor Patricia Kameri-Mbote the Director of Latin America for the Global Network for the Study of Human Rights and the Environment Ms Maria Antonia Tigre, and a Judge of the Constitutional Court of Hungary, Professor Marcel Szabó, who all presented country cases on innovative constitutional design.
In his introductory remarks, the Secretary-General outlined the intricate relation between democracy and climate change, and highlighted the importance of actively protecting both. He pointed out that climate change is one of the Institute's new cross-cutting priorities. As part of this endeavour, all International IDEA's programmes are looking at the intersection of democracy and climate change through their thematic lens with the goal of developing both knowledge and solutions for democracies to efficiently tackle the climate crisis.
Constitutions were highlighted as "robust institutional structures to address climate change". According to the Secretary-General, constitutions offer multiple advantages: They guarantee procedural environmental rights, shape political behaviours, protect the intrinsic value of a sustainable environment, and provide the opportunity to take part in socio-political dialogues. The Secretary-General pointed out that constitutions also play a vital role in bridging the protection of the environment with the rights of future generations, through innovations in constitutional design. He noted that the Constitution-Building Programme, as a key thought leader in the field, is dedicated to continue the discussion on innovative constitutional approaches to tackle some of the biggest global challenges of our time.
Read the webinar summary and view the recording of the webinar on International IDEA's YouTube channel.