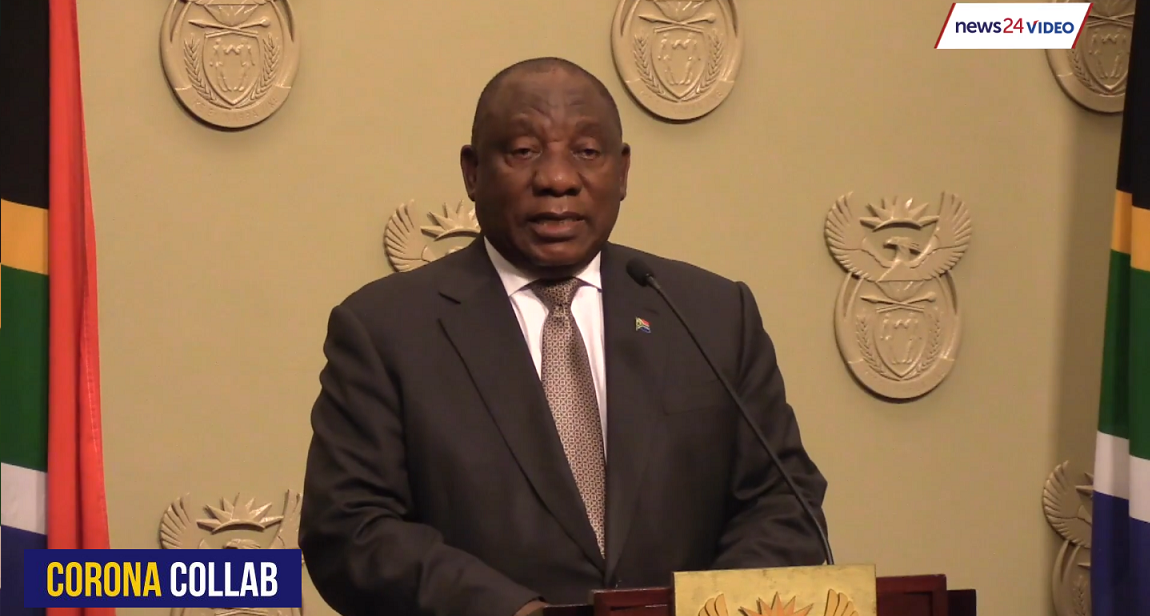 Cyril Ramaphosa, President of South Africa. Image credit: News24.
Disclaimer: Views expressed in this commentary are those of the staff member. This commentary is independent of specific national or political interests. Views expressed do not necessarily represent the institutional position of International IDEA, its Board of Advisers or its Council of Member States.
Este comentario está disponible en español.
The novel coronavirus (COVID-19) that is keeping millions of people across the globe home bound—has severely altered political, socio-cultural, educational and economic activities of millions of people. Many governments have and will continue to make difficult political decisions, including unprecedented and far-reaching restrictions of human freedom of movement and gathering as states' health systems struggle to manage COVID-19 coronavirus that is spreading and ravaging lives. Although these decisions made are based on medical and scientific information and advice, essentially these are political decisions. One silver-ling that seems to be emerging across democracies—is that national political leaders are making efforts to transcend the political divides and are cooperating in response to this pandemic in many countries.
In more established democracies, a good balance between political competition and political cooperation—seeking inclusive consensus on key policy issues has been part of the political culture. That is why many might not find it surprising that in Sweden for example, the government sought and received support from most of the parliamentary political parties on a wide range of measures including approval of a 300 billion kronor crisis package. The package is meant to mitigate the economic impact of the Covid-19 pandemic, by among other things- enabling the government to liquidate companies at risk, shoulder payments for tens of thousands of temporarily laid off workers and cover cost for sick pay. Even in the linguistically and politically polarized Belgium, political parties reached an agreement to grant ''special powers'' to the Prime Minister and to form an ''anti-corona government''.
Such positive examples of dialogue and inclusive political decision-making have been witnessed in many other countries across the world; including those usually characterised by high levels of political polarisation. In South Africa for example, the local media has coined a term of ''Corona Collab'', to describe an unprecedented unity and cooperation exhibited by all 14 political parties represented in parliament, to support measures to mitigate the spread of coronavirus. In Pakistan, a committee comprising party representatives from across the political divide has been formed to deliberate and make recommendations to the government, on how to manage COVID-19; while in Chile, a consensus to postpone a constitutional referendum from April to October 2020 was achieved across the political divide, so as to allow the government to focus on responding the Covid-19 pandemic.
Many more, and probably harder political decisions will have to be made post-COVID-19 virus crisis. For example, economists are predicting an unparalleled global recession once this pandemic is over. Given that coronavirus has spread virtually to every country, policymakers across the world have very bumpy times ahead, as they tackle the extensive impact of this pandemic. All political and economic institutions, systems and processes will experience the effects in both the private and public spheres as a result of this crisis, more so those that were already struggling pre-COVID-19.
National development plans will most likely have to be revisited to reprioritise sectors; SDG targets will be negatively affected, and lessons learned through this pandemic will likely lead to institutional and policy reforms to strengthen countries' resilience to any similar situations in future. It is critical that the momentum of dialogue, cooperation across the political divide and inclusive decision-making that has characterised political leaders in many countries during this epidemic is sustained. Inclusivity should however expand beyond political parties, by engaging all sectors of society—particularly those generally underprivileged and whose lives will be disproportionately impacted by economic crisis. For instance, the prevailing inequalities between men and women throughout the world mean that women are among the most vulnerable people to economic shocks; and so are the youth. Gender and youth inclusion in post-COVID-19 policy discourse will therefore be more important than ever before.