Nigeria, Africa's largest democracy, is preparing for elections in February 2015 with Presidential and National Assembly elections on 14 February followed by state governorship and Houses of Assembly elections on 28 February. The 2015 elections will be administered by the Independent National Election Commission (INEC) headed by Chairman Attahiru Muhammadu Jega starting with a nationwide voter registration process. Political party campaigns are set to begin in November 2014.
Since December 2013, International IDEA and the African Union have partnered with INEC to implement a joint project which focuses on the national deployment of the IDEA Electoral Risk Management Tool (ERM Tool) which is designed to empower users in organizing or supporting peaceful and credible elections.
The Tool assists in identifying the possible triggers for election related violence before it occurs at different stages of the electoral cycle, and helps users devise appropriate measures to avert it.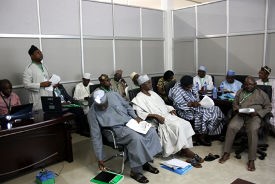 As the Tool can be customized to meet different country and electoral contexts, INEC-AU-IDEA organized a context overview workshop in Abuja in December 2013, entitled 'Mapping Electoral Risks in Nigeria.' Approximately 100 participants from INEC, security sector agencies and civil society took part, including a delegation from the Independent Electoral and Boundaries Commission (IEBC) of Kenya who used the ERM Tool during the Kenyan 2013 elections. Participants were asked to provide feedback on geographic regions, primarily the 36 states of Nigeria and the federal capital territory that faced increased risk. Participants were also asked to identify relevant risk factors and the phases of the electoral cycle that faced increased risk and possible strategies to prevent and mitigate violence.
Since the December workshop a team of 15 INEC staff members from various departments including Election Operations, ICT, Research and Development, Security and Voter Registration are putting together materials for an assessment document. This document will allow INEC to customize the ERM Tool's knowledge resources as well as inform operational planning and data collection.
In addition to the workshop, INEC staff has also received advisory and technical support from International IDEA and AU Staff on how to make good use of the ERM Tool software which includes a state-of-the-art geospatial analysis component. The first training of this kind was completed in December 2013 and the second training is currently underway from 4-7 March 2014 at the Electoral Institute in Abuja.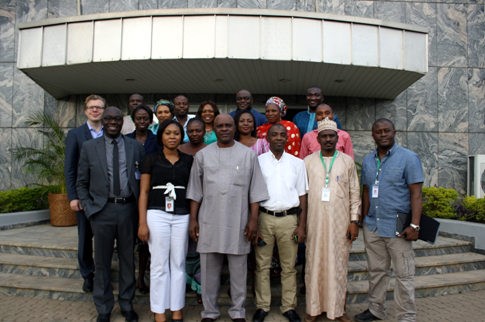 Assistant Director and ERM Tool coordinator of INEC, Agoha Ifeanyi, states that 'it is very important that INEC fully understands all aspects of the ERM Tool, therefore technical trainings of this kind are critical for us (INEC) to have full ownership.' He further explains that 'we have so far managed to put together, using consolidated data from the December workshop, some innovative and very accessible risk maps that will help the commission analyse risks ahead the 2015 elections.'
Also, he points out that 'stronger elements of scenario building are necessary for INEC to deal with electoral risk at the state and national level, therefore the INEC-AU-IDEA project is very timely considering the up and coming Governorship election in Ekiti and Osun states during the summer 2014.'