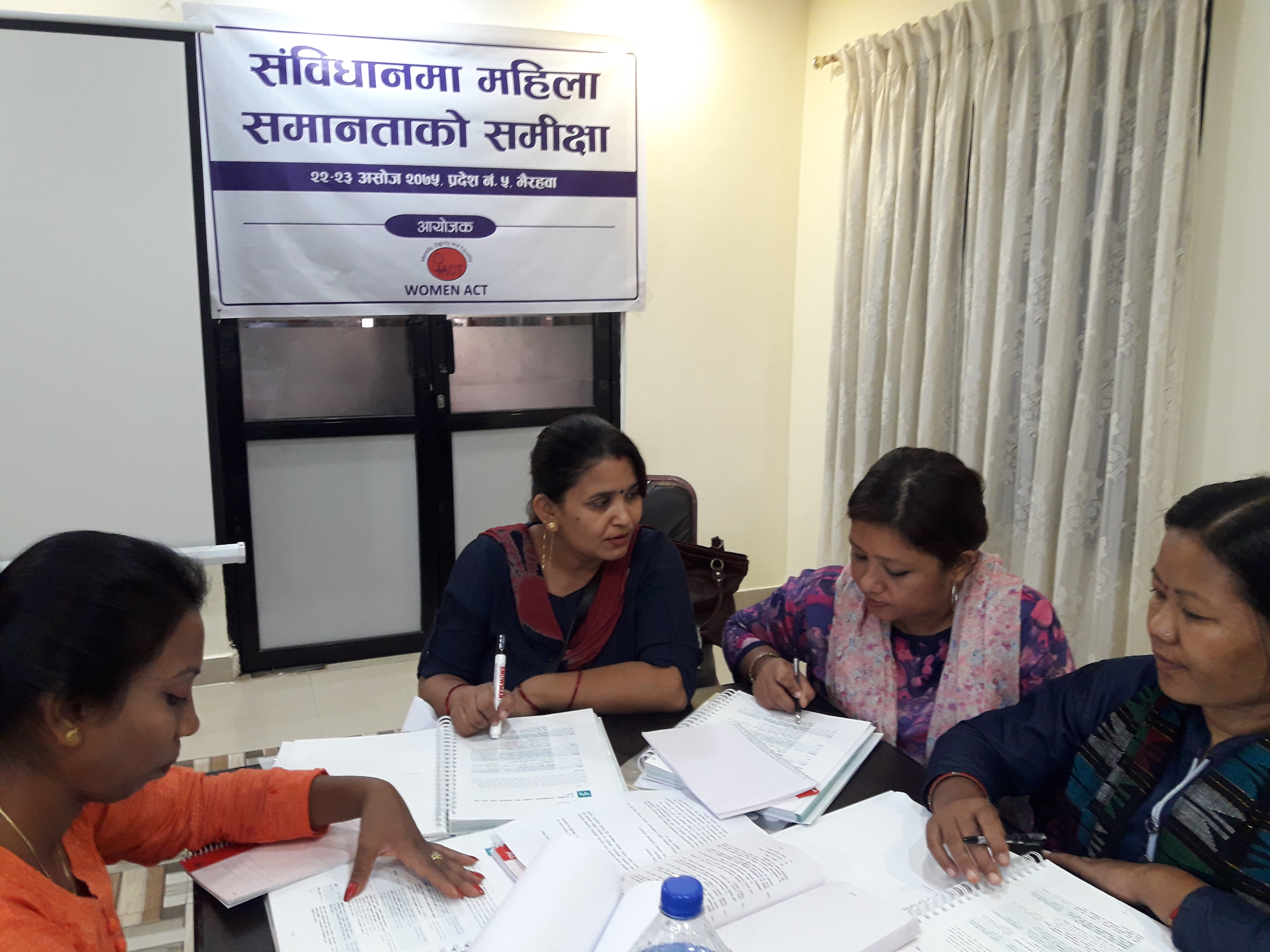 Participants discussing the constitution of Nepal. Image: International IDEA/Rita Rai
Disclaimer: Views expressed in this commentary are those of the staff member. This commentary is independent of specific national or political interests. Views expressed do not necessarily represent the institutional position of International IDEA, its Board of Advisers or its Council of Member States.
Balancing power relations, reducing disparities, ensuring equal rights, opportunities and respect for all individuals regardless of their sex or social identity is a must to bind a nation together and establish the foundation for social development and nation building.
Nepali women, as more than 50 per cent of the total population, are still lagging in terms of meaningful participation and representation in political, social, economic and educational aspects of life. The 33 per cent quota system for female candidates introduced by the Constitution of Nepal has indeed managed to increase their political representation, but it is not far from criticism, as it is seen as having favoured quantity over quality.
The voice of the people
International IDEA had the opportunity to recently conduct 7 workshops on the provincial level focusing on how to assess a constitution from a women's equality perspective. During the workshops, Sarswati Aryal (Coordinator, Inter-Party Women Alliance, Nuwakot, Province 3) expressed her opinion on the current constitutional conflicts between theory and practice:
"Allocating 33 per cent​ of seats for women should be mandatory for both the first-past-the-post (FPTP) system and for the proportional representation system. During the elections, all political parties nominated female candidates only for the proportional seats. Only a few female candidates were elected through the FPTP system. This again helped place men in decision-making positions and places."
Aryal argues that female candidates are selected for the sake of participation, to fulfil the 33 per cent quota system rather than to empower them. Seats are being filled in the personal interest of top leaders, rather than capacity and contribution to the party.
"Although the Constitution has ensured equal pay for equal work, women usually are paid less than their male colleagues are. The situation is worse in the private sector and in informal sectors, such as construction, garments, cement factories, brick kilns etc. This is a serious human rights violation. Proper law enforcement and regular monitoring from the concerned authorities is necessary."
- Nitu Gartaula, Deputy Director, National Human Rights Commission, Gandaki Province, Kaski, Province 4.
The experience shows that ensuring the provisions of equal rights in a constitution is important, but at the same time, proper implementation of those provisions is equally important to balance the theoretical and practical gap of gender development.
Contextual Analysis
Recent local elections saw 753 Deputy Mayors/Chairs from 6 metropolitan cities, 11 sub-metropolitan cities, 276 municipalities and 460 rural municipalities elected. The fact that 700 of these were female is a major achievement. If you look at the details though, out of 753, only 18 of the elected Mayors/chairs were female. The question is, why only 18 female Mayors/Chairs out of 753 seats? Why must women candidates be limited to deputy positions?
Why there are only 3 female ministers out of 22 at the federal level? Why are there no females leading political parties? Why there isn't a single female Chief Minister in any of the provinces? Is it because there are no capable women, or can other reasons explain this phenomenon?
Multiple factors are in play in this context: such as historically institutionalised gender discrimination, patriarchal mindset, socially constructed exclusion and practices and economic status. The Constitution of Nepal however, has guaranteed equal rights for every citizen and some special rights for women and disadvantaged groups. The truth is that formal equality is not enough, as women and disadvantaged groups are not on equal footing to utilise these formal opportunities.
Meeting point
Various formal and informal approaches should be applied to exercise equal rights and opportunities. This should include the effective implementation of the Constitution through the formation of proper laws with enforcement mechanisms. Differential treatment and positive discrimination, advocacy aimed at changing mindsets, beliefs norms and practices towards women, can help to practically rebalance the power.