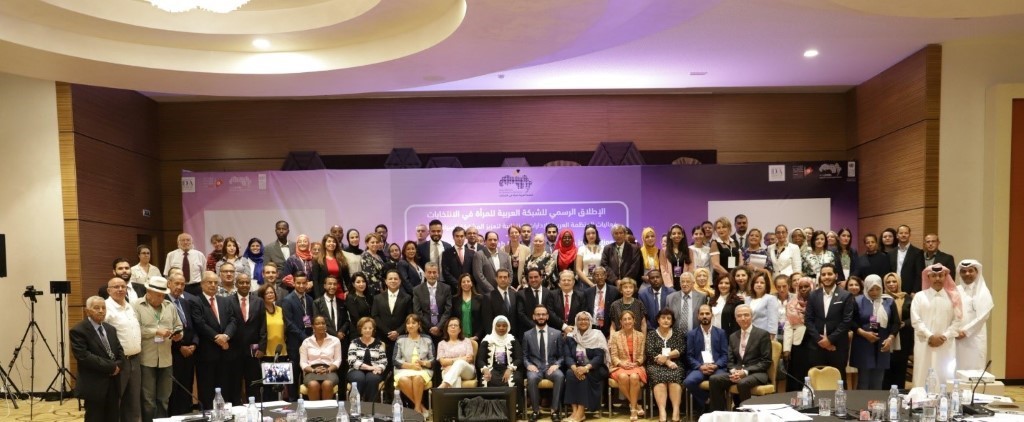 The launch of the Arab Network for Women in Elections in Tunis on 5 October 2019.
Regional cooperation to promote women's political participation through mainstreaming policies and identifying standards and good practices
The Arab Network for Women in Elections was officially launched on 5 October 2019. As the first and only entity of its kind in the region, the network provides a platform to support and promote women's political and electoral participation in the Arab world. It advocates gender mainstreaming in the policies and programmes of all stakeholders, partners and members; supporting women in political and electoral processes; and identifying and disseminating standards and good practices for women's participation in the region.
International IDEA has partnered with the Arab Organization for Election Management Bodies and the UNDP to create this regional platform to promote gender equality in elections. The network brings together governmental and non-governmental organizations and individuals that share the same vision.
Despite recent advances in promoting women's political representation, women in the Arab region remain underrepresented. Many face barriers to participating in public and political life in general and in elections, in particular. The region has the lowest average of female Members of Parliament worldwide (19 per cent).
The recently launched network is a continuation and expansion of International IDEA's work to promote gender equality. For several years we have been working with electoral management bodies (EMBs), MPs, political parties, civil society organizations, international electoral assistance providers and other boundary partners to increase women's participation in politics at all levels.
The network is a good example of impactful coordination among governmental and non-governmental stakeholders across countries, as it involves a variety of electoral stakeholders.
International IDEA supports the Arab Network for Women in Elections to promote the political and electoral participation of women in the Arab region with the aim to make the representation functions and institutional systems more transparent, inclusive, responsive and accountable to all citizens.
Read more stories about International IDEA's results in our Annual Outcome Report 2019: Democracy In Action.