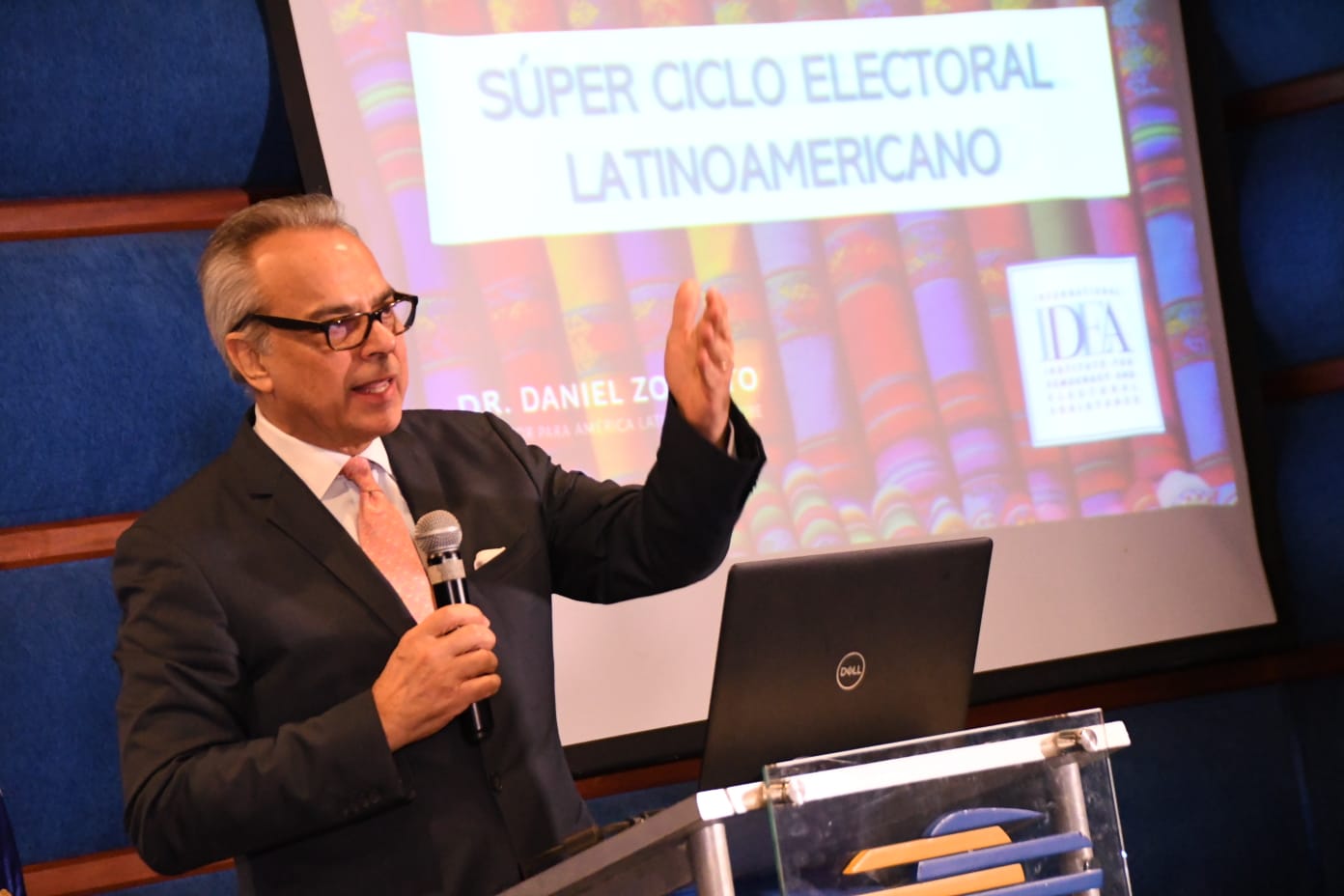 Photo Credit: FUNGLODE
The Regional Director for Latin America and the Caribbean, Dr Daniel Zovatto gave a keynote lecture on 13 February 2020 on "Electoral super cycle in Latin America: reconfiguration of the regional political map", organized by the Global Foundation for Democracy and Development (FUNGLODE, for its Spanish acronym) at its headquarters in Santo Domingo, Dominican Republic.
Este artículo está disponible en español.
During the lecture, Dr Zovatto provided a balance of the results and tendencies of the 15 presidential elections that took place in the region between 2017 and 2019 (three in 2017: Ecuador, Chile and Honduras: six in 2018: Costa Rica, Paraguay, Venezuela, Colombia, Mexico, and Brazil; and six in 2019: El Salvador, Panama, Guatemala, Bolivia, Argentina and Uruguay). The elections in Bolivia were annulled on grounds of serious irregularities.
In his presentation, he gave an economic, social and political prognostic of the region. On the economic front, he highlighted that according to reports of CEPAL, the region saw an anemic increase of 0.1 per cent in 2019, and the projections for 2020 indicate that e region will continue to experience mediocre growth of 1.3 per cent, one of the lowest in the world. This weak economic growth has impacted other regional social indicators, including increase in poverty (30.8 per cent) and extreme poverty (11.5 per cent); increased inequality in several Latin American countries and failure of labour market to generate quality jobs. On the social front, he highlighted the "brutal" advances in corruption in the region and rise in the levels of homicide. Although Latin America represent 8 per cent of the world population, it experiences 33 per cent of the homicides globally.
On the political front, all regional surveys show the feeling of unease with politics and democratic fatigue that runs through Latin America. The data from the 2018 Latinobarometro show the "midlife crisis" that Latin American democracy is going through: democracy support fell to 48 per cent; the indifference between democracy and authoritarianism rose to 28 per cent; dissatisfaction with democracy climbed from 51 per cent to 71 per cent, while satisfaction fell from 44 per cent to 24 per cent. This feeling of discontent and frustration impacts negatively on levels of trust towards political institutions, and especially affects congresses and parties. Both institutions have the lowest levels of citizen legitimacy: 21 per cent and 13 per cent as a regional average. These data, he stated, confirm that the distance of voters to the parties continues to increase, as well as the wide malaise and anger of citizens with the Politics and ruling elites.
In his assessment of the results and responses of citizens to these processes, he emphasized that almost all of the electoral processes were characterized by high level of citizen unrest with politics and elites, a phenomenon that he described as "vote of anger". This feeling of unease generated in several countries an "anti" vote, a vote of punishment and rejection of the government and the parties, in favour of "messiahs or saviors" who would supposedly come to fight against "the old politics and its vices".
In 10 of the 15 elections, there was a provision of going to a second round: Ecuador, Chile, Costa Rica, Colombia, Brazil, El Salvador, Guatemala, Argentina, Uruguay and Bolivia. In all of them (Bolivia is excluded) except in El Salvador and Argentina, it was necessary to go to a ballot to define the president; phenomenon that has become increasingly frequent. In three cases, Costa Rica, Guatemala and Uruguay, there was a reversal of the result, that is, whoever won in the first round was then defeated in the ballot. In most cases, the presidents elected do not have their own majority in Congress, which he stressed, complicates governance and makes it difficult to approve the structural reforms (fiscal, labor, pension, etc.) that many of these countries urgently require. In view of the panorama, he explained that the need for coalitions to win elections was increasing, to which he added "now they will also be necessary to govern in presidential systems".
In highlighting the priorities for the new decade, Dr Zovatto emphasized that ´promises are no longer enough´, what is needed is results. The rising middle class in the region is looking for better education and employment opportunities, improved health systems and good public safety mechanisms, among other priorities. The popular protests and social movements that engulfed Latin America towards the end of 2019, especially in Chile, Bolivia, Ecuador and Colombia highlight the need to negotiate a new social contract, which will ensure provisions for equitable growth and better distribution of wealth. He concluded his lecture with the message that if we are to avoid a dangerous populist and authoritarian escalation, work needs to be done to improve the quality of democracy.