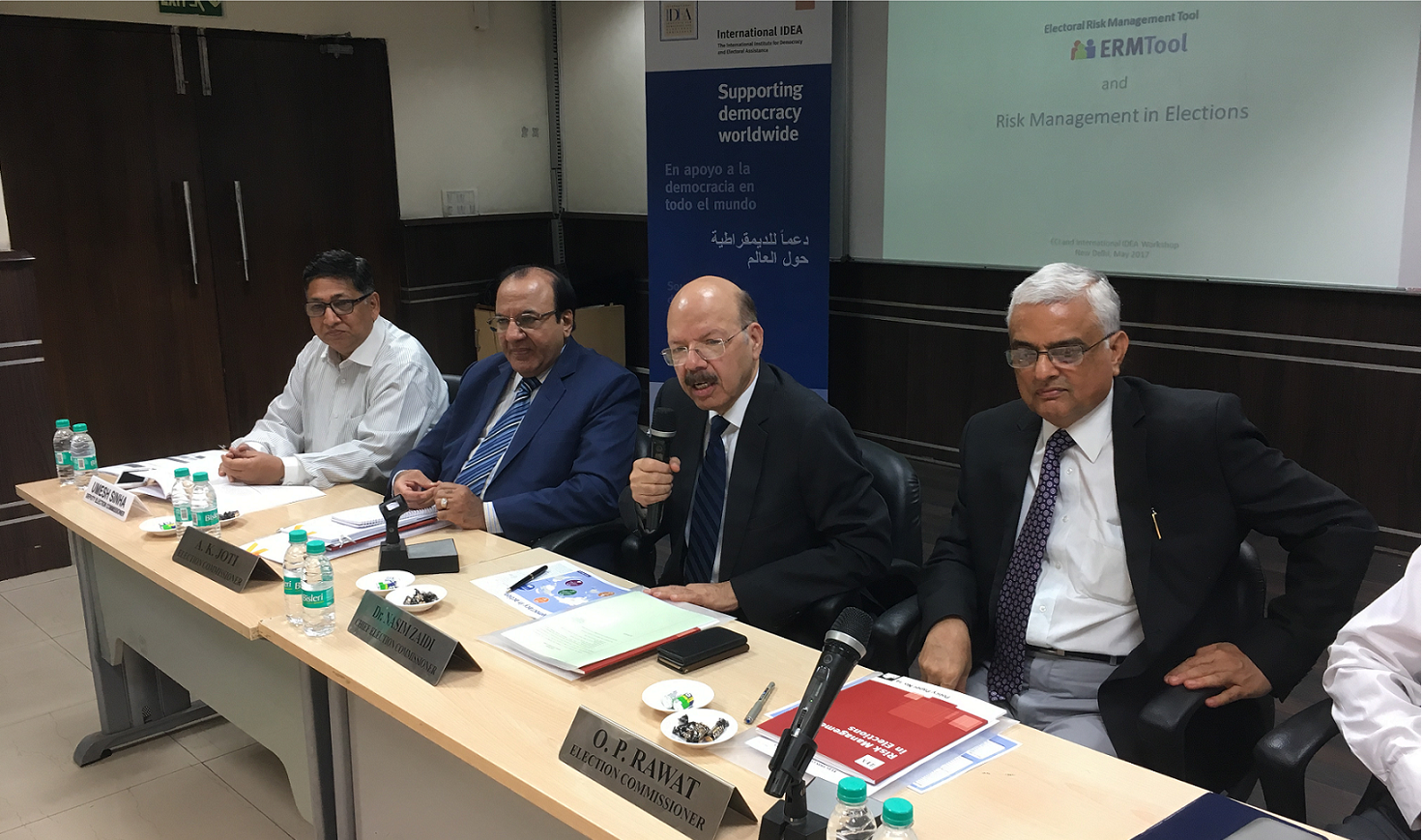 From left to right: Umesh Shinha (Deputy Election Commissioner), A. K. Joti (Election Commissioner), Nasim Zaidi (Chief Election Commissioner) and O. P. Rawat (Election Commissioner) [Photo: Adhy Aman | International IDEA]
"Sedia payung sebelum hujan" is an Indonesian adage that means one must be prepared for any pitfalls. Its English transliteration is "Get an umbrella ready before it rains". Like rain, some pitfalls can be anticipated and some cannot. Rain can be expected by the gradual appearance of grey clouds, but rain may also suddenly fall on a sunny day. Managing elections is no different. There are risks involved that are both apparent and not so obvious.
As such, the need for managing risks throughout the electoral cycle is a given and yet based on a study explained in International IDEA's Policy No. 14 entitled "Risk Management in Elections", not all election management bodies (EMBs) have a robust risk management process in place.
To learn more about electoral risk management (ERM) practices in established Asian EMBs, International IDEA staff Adhy Aman and Sead Alihodzic set out to visit EMBs in India, Bangladesh, Sri Lanka, Thailand, The Philippines and Indonesia between 15 May and 26 May 2017. At the same time, the International IDEA team will also present main findings from the Policy Paper.
The Election Commission of India (ECI) was the first to receive the Team. The ECI has recently published an ERM Manual that is intended to serve as guidance for their election managers at headquarters and state levels in anticipating risks. The manual contains potential risks at different election phases and suggests actions to be taken if such risks appear.
Indeed, anticipating electoral risks is not new in India. The ECI has for more than a decade implemented "Vulnerability mapping" that identifies critical polling stations based on the likelihood of intimidation or threat in order to take timely preventive actions.
While it is apparent that the ECI has been conscious about the need to anticipate electoral risks, the term "electoral risk management" has not been coined until recently. From the International IDEA team's discussions with senior officials at ECI Headquarters and the Chief Electoral Officers of the Indian states of Delhi, Goa, Karnataka, Manipur, Punjab, Uttar Pradesh, Uttarakhand and West Bengal, the ECI is on its way toward institutionalizing ERM in a comprehensive way. International IDEA's research shows that the EMBs of Canada and New Zealand, for example, use governmental or internally devised risk management frameworks respectively.
The Chief Election Commissioner, Nasim Zaidi, in his speech during the opening of the discussion, declared that the planned Electoral Risk Management division in ECI's structure should be established without delay. The division is needed to manage the upward trajectory of ECI in institutionalizing ERM, which includes implementation and continuous updating of the ERM Manual, systematizing data management at state level and further down at a later stage as well as the adoption of technology in ERM.
International IDEA is convinced that the example India is setting could be an inspiration to other EMBs in Asia that has not yet established a formal ERM mechanism. International IDEA believes ERM is becoming a new standard for organizing credible elections.
Follow this team's journey as they visit Bangladesh, Sri Lanka, Thailand, The Philippines and Indonesia.