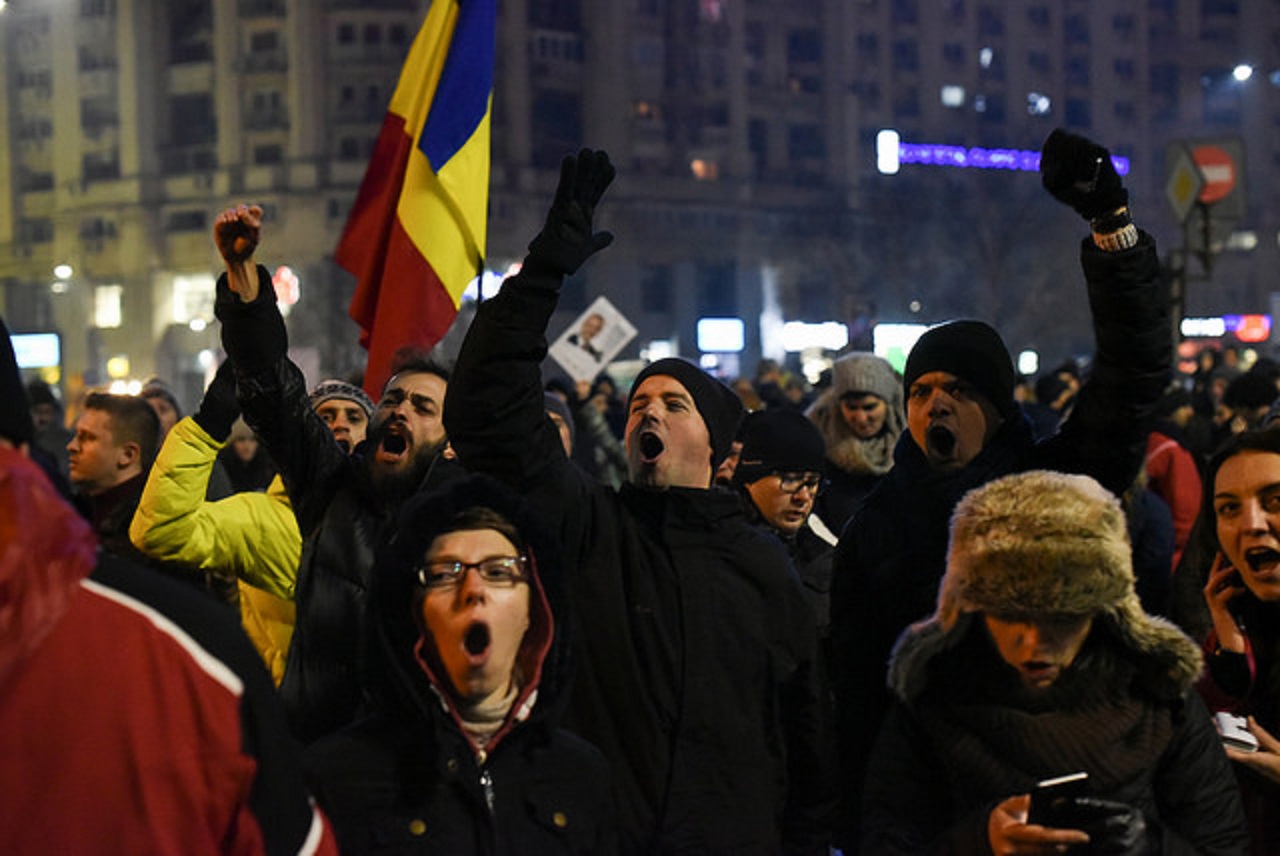 Bucharest Protest 2017. Photo credit Paul Arne Wagner
In the first three months of this year, hundreds of thousands of Romanians took to the streets of Bucharest. They protested against political corruption and attempts by politicians to maintain immunity in the face of serious fraud allegations. After politicians ultimately backed off from their plans, the protests subsumed. What remained, however, was a society with pervasive political corruption, in need of new instruments to detect and prosecute corrupt politicians.
On 7 and 8 September, the International Institute for Democracy and Electoral Assistance (International IDEA) shared its work on e-transparency at a conference on Money and Politics in Bucharest, organized by Romanian NGO, Expert Forum. The conference came in the wake of the Regional Conference on Money in Politics, which International IDEA co-organised in Tbilisi last June. Sam van der Staak, the head of International IDEA's Wider Europe Programme, presented International IDEA's upcoming guide, 'Digital Solutions for Political Finance Reporting and Disclosure'.
Although the discussion on fighting political corruption is far from new, the Expert Forum picked up on three new trends that the Tbilisi event had also highlighted.
Firstly, the different subsets of corruption are increasingly being treated as the intertwined phenomenon they are in reality. Corrupt politicians have become apt at rigging public tenders while in office, so as to 'earn' back campaign funds from corrupt businessmen once elections start. Therefore, crime fighters are beginning to see the monitoring of public procurement hand-in-glove with the oversight of political finance oversight.
Secondly, digital anti-corruption efforts are no longer a mere gimmick. Whereas online reporting, digital monitoring, and big data were considered add-ons as recently as two years ago, examples from the United Kingdom, Estonia and Georgia show that digital technology now has the power to expose complex corruption networks in ways that were recently considered impossible.
Lastly, consensus is emerging that the field of anti-corruption should move away from technical and legal solutions only. Targeting this political domain with political instruments is what corrupt politicians are most sensitive to. Across Europe, parties with an anti-corruption profile are winning votes, hitting corrupt politicians where it hurts the most. Crime fighters should, moreover, explore how to improve internal party procedures that stimulate transparency, so that party members do not turn a blind eye to corrupt politicians.
All three developments are in their infancy. But as Romania continues to fight corruption, some of these trends may form the contours of a solution.