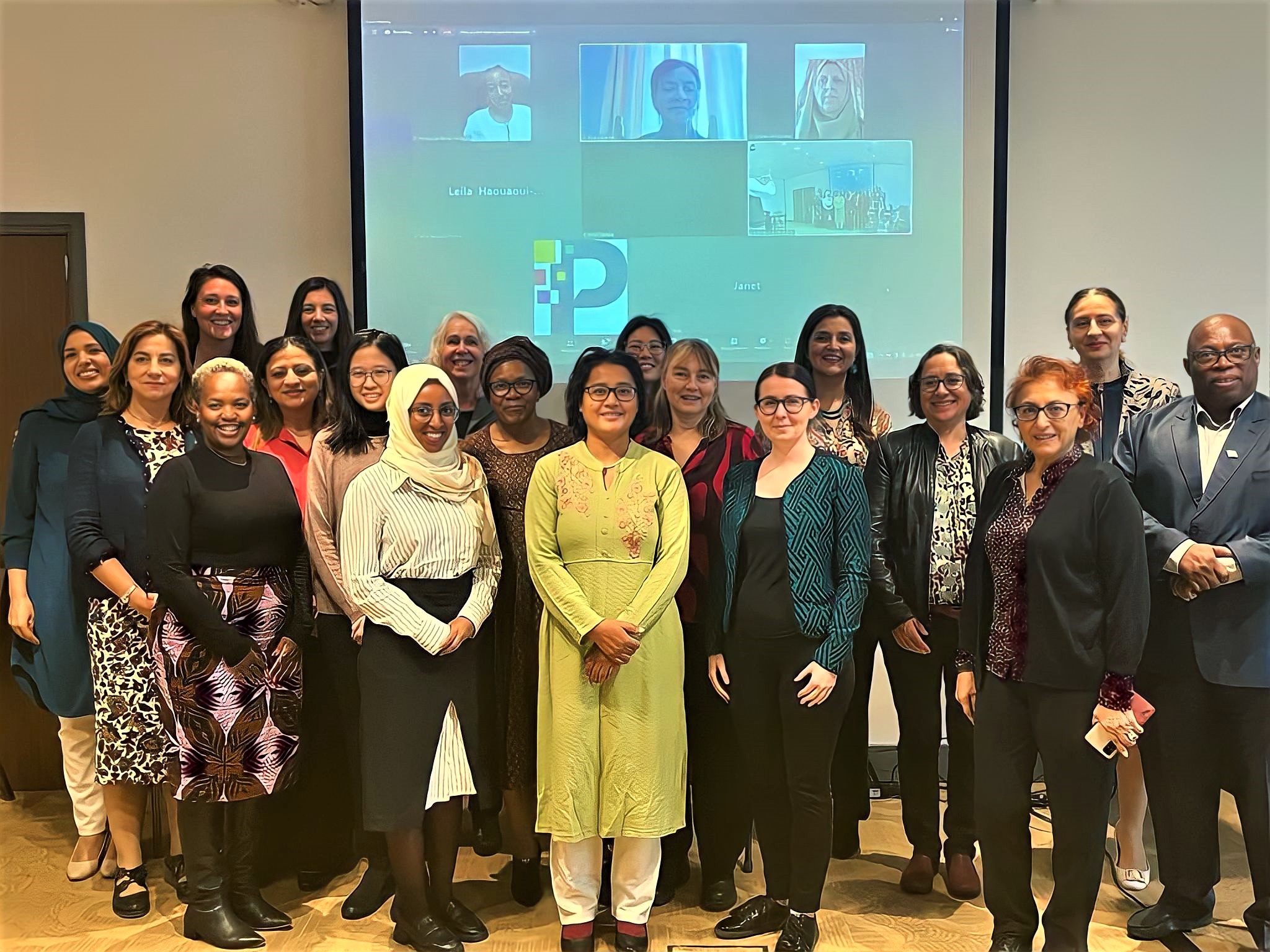 Participants of the fourth Women Constitution-Makers Dialogue, held in October 2022.
Transforming Constitution-building
In a global context of democratic backsliding and growing intrastate and interstate conflicts, the imperative of women's full and equal participation in constitution-building and peace processes is more urgent than ever. Yet in practice, women's representation at the constitution-making table hovers around 19 per cent, while women's representation at the peace negotiations table is even lower. Further, women's participation in such processes is sometimes confined to stereotyped "women's issues", which deprives these processes of the richness of women's intersectional identities and expertise. In response to this challenge, the annual Women Constitution-Makers' Dialogue series—founded in 2019 by International IDEA together with the Edinburgh Centre for Constitutional Law collaborating as part of the Peace and Conflict Resolution Evidence Platform (PeaceRep), University of Edinburgh[i]—provides a systematic, women-centered approach to examine and support inclusive, participatory and gender-sensitive constitution-building in conflict-affected and political transitions.
Conventional mechanisms to enhance women's involvement in, and influence over, these processes tend to emphasize gender quotas and related special measures—both targeted at women's participation. While these are important avenues to ensure women a seat at the decision-making table, they cannot generally guarantee the inclusion of women (and men) who are committed to furthering protection of women's rights and equality. Moreover, by presenting women as a homogenous, marginalized group, such mechanisms tend to reinforce limiting assumptions, including: the idea that women are expected to speak for women and hold a set of common interests; that women should use their often-limited political capital to advocate chiefly for the women's rights agenda. Yet many of women's most fundamental concerns—on the rights to citizenship, to own assets, to be protected from violence, to seek redress in court, and to access public services—can be addressed by either men or women, though men are rarely asked to explain their positions on these issues.
Placing the burden of women's rights advocacy on the shoulders of women at the table regardless of their backgrounds intersecting identities or interests—often comes at the expense of other issues of fundamental concern not only women, but to broader society and the peace and/or democracy transition as a whole. While quotas and other special measures remain invaluable tools for women's inclusion, it is important to consider other approaches to ensure that women can access and influence political settlement change processes, and shape the new governance dispensation in a variety of ways and from a variety of perspectives.
One way to do this is to support women to harness and leverage their expertise in the technical aspects of state transformation, and simultaneously infuse existing conventional understandings of change with a gender perspective. Expertise provides an additional pathway to claiming a seat at the table, and can also (re)shape perceptions of women's leadership so that the value of women's representation in decision-making in complex transitions is not seen as primarily linked to their gender identity, but also to their expert knowledge of the substantive issues at the heart of the reform agenda, and the comparative networks they can access. Or put another way: when women are the experts and experts are at the table, people cannot help but listen to women—even in the face of resistance from some segments of society.
Fourth Women Constitution-Makers' Dialogue
As one step toward this effort, the fourth Women Constitution-Makers' Dialogue—held on 27 and 28 October 2022—focused on the technical design theme of Constitutional Approaches to Decentralization: Elements, Challenges and Implications. Since the late 1980s, the constitutional entrenchment of various forms of decentralization has been a growing trend globally, often driven by a combination of political, economic and social pressures as well as bureaucratic incentives. Decentralization is broadly considered a solution to a range of problems facing a country, and is often a key demand of territorially organized and/or historically marginalized communities in conflict-effected situations. Yet, the mechanics of decentralization processes are often not well understood by either men or women at the negotiating table. Core terms, such as federalism and 'decentralization' itself, lack clear definitions and tend to mean different things to different actors. This further complicates peace and constitutional negotiations, but also the efficacy of design decisions and the capacity to implement the agreed approach. Examples of these challenges can be observed in countries as diverse as South Sudan and Myanmar, the Philippines and Chile.
The implications of decentralization for women and women's equality are significant and complex. For example, decentralization can create increased opportunities for women to gain political office and to influence policies and laws in their communities; but it can also can create a 'race to the bottom' wherein substates enact regressive laws and policies that undermine equality and exacerbate marginalization. Yet women are often left out of decision-making roles related to constitutionalizing decentralization policies. In part, this is because decentralization is commonly considered a 'technical' issue rather than a women's rights issue, and because women are less often included in leadership positions in 'technical' constitution-making committees generally (as compared to, e.g. committees on rights and values).[ii]
Accordingly, the aims of the 2022 Women Constitution-Makers' dialogue were two-fold: (1) to harness the knowledge and capacity of participants to engage in decentralization processes as experts—ranging from negotiating the design of decentralized systems at the peacebuilding or constitution-making table, to supporting implementation; and (2) to compare experiences in the negotiation, design and implementation of decentralization schemes at the country level, with a primary focus on states in which decentralization is linked to democratic and/or conflict transitions; (3) to enable women to build their networks across countries as a future resource to their country's processes.
The closed, hybrid (online/in-person) event featured 30 participants in The Hague. Participants included constitution-makers, peacebuilders, civil society advocates, international expert advisors and researchers from Armenia, Australia, Botswana, Chile, Ethiopia, Kenya, Myanmar, Nepal, South Africa, Syria, Tunisia, the United Kingdom, the United States and Yemen. Sessions focused on unpacking the building blocks and key decision-points involved in decentralization processes, and the complex ways that particular approaches play out at the country level. Topics included: (1) conceptualizing and framing the elements of decentralization, including the problem of terminology; (2) the political economy of negotiating approaches to decentralization; (3) common implementation challenges; (4) the role and influence of local voices in demands for decentralization; (5) understanding the institutional and practical aspects of fiscal devolution; (6) key considerations in decentralizing natural resources governance; and (7) the implications of decentralization for the rights of women, Indigenous peoples and minority communities.
Key Findings
While there were a number of lessons and take-aways from the two-day discussions, key among these were as follows.
Decentralization processes are particularly fertile ground for enhanced and systematic women's engagement. When such processes arise, women at the table and their allies in civil society should recognize and seize the opportunity to shape the approach to better meet their needs. In part, this is for the obvious reason that lower levels of government are closer to home and are often easier for women to engage with and influence. Accordingly, having a voice in their design, and influence over the allocation of sub-state government responsibilities, and mechanisms for holding it accountable, is crucial for women. Another reason is that lower levels of government tend to be the primary interface for issues that impact women's daily lives. As demonstrated during the Covid-19 pandemic, it is often the lower levels of government, rather than the center, that are the most relevant for supporting (or neglecting) people in times of need. As women disproportionately bear the burden of shocks (such as a pandemic or economic crisis), women should assert their views as to how the decentralization system will operate in both normal and extraordinary circumstances.
The terminology surrounding decentralization has no fixed meaning. The danger is that people tend to think that common terms have fixed meanings. So even when using the same terms at the negotiating table, in practice, they mean different things to different stakeholders. This can not only cause confusion, it can also exacerbate perceived differences and further entrench respective positions among negotiating groups. A potential strategy to address this—for women and others—is to refocus discussions on desired outcomes, particular powers, and interests of concern for different groups. For example, while a particular group may demand 'federalism', their core concern may be for the constitutional entrenchment of territorial autonomy and guarantees of self-rule with authority over specific governance issues and responsibilities. Focusing on the practicalities of decentralization arrangements may widen the possibilities of finding common ground among different groups desiring similar outcomes—even if they use different labels or ascribe their demands to different conceptual bases. The language can often be more difficult to agree than the substance. A focus on substance can also provide the potential for actual compromise because, while it is difficult to compromise on concepts, it is often easier to compromise on mechanics and to imagine alternatives around which it is possible to build political bargains.
At the country level, there is often an assumption that decentralization is nearly always beneficial. Yet in complex and protracted conflicts, in particular, decentralization can have the counterintuitive effect of decentralizing a lack of governance. If applied in a cynical way, decentralization can serve as a means for a dysfunctional central government to avoid addressing complex governance challenges by instead pushing such problems (and decisions about their potential solutions) onto sub-state units, and perhaps also the realm of identity politics operating in different areas of the state. This phenomenon, which is currently under researched and not well understood, can be observed in protracted conflicts like Syria.
Relatedly, while decentralization is no longer seen as a panacea for complex problems by the international community, it is still viewed—in absolute terms— as a solution to a range of problems by many actors at a country level. This can create challenges of expectation management and undermine public perceptions of the efficacy of conflict-to-peace and/or authoritarianism-to-democracy transitions over the long term. Decentralization, like peace- and constitution-building, are long-term and living processes, not end-states. Accordingly, it is crucial that decision-makers consider and seek to understand not only the symbolic and normative importance of decentralization, but also the risks and drawbacks of various decision points given a specific context and in light of particular factors. Further, where decentralization negotiations are part of a constitution-building or peace process, it is important to support public education and participation opportunities around these issues to enhance the depth and quality of public understanding and public inputs, so that development of devolved institutions will be built over time.
Relatedly, because the process of decentralization continues over time, aspects of implementation are somewhat pliable. For women, this means that avenues for mobilization and advocacy remain open throughout the long period of interpretation, implementation and enforcement to shape what decentralization will look like in practical terms. All negotiations involve compromises, and decisions around an approach to decentralization will necessarily involve 'wins' and 'losses'. Yet, there is always space to shape the way that such decisions are interpreted and applied, the nature of conventions that are built over time, and culture of decentralization itself. In most contexts, this space is crucial for women, in part, because it takes place in less highly charged political circumstances where women, and others, can potentially benefit from continued and systematic engagement.
Decentralization processes must be understood and approached holistically across political, economic and security issues. For example, while the boundaries of substate units may be amongst the most contentious issues at the bargaining table, failing to adequately address the fiscal components of decentralization will severely compromise the efficacy of the approach, likely exacerbate extant governance challenges during implementation, and lead to unintended consequences. This is an area on which the expertise of both men and women needs to be built, and technical assistance made readily available. At the same time, decentralization processes are always about power and influence. It is not possible, in a context of either conflict or peace, to approach planning as a checklist of issues.
[i] This is an output for the Peace and Conflict Resolution Evidence Platform (https://peacerep.org/) funded by UK Aid from the UK Foreign, Commonwealth & Development Office (FCDO) for the benefit of developing countries. The information and views set out in this publication are those of the author(s) and do not necessarily reflect the official opinion of FCDO. Neither FCDO nor any person acting on their behalf may be held responsible for the use which may be made of the information contained therein.
[ii] For example, during the 2011-2013 Tunisia process, women held only one presidency position among all committees (for the committee on Rights and Liberties), and only three vice presidencies. During the South Africa process, parties to the Multi-Party Negotiating process agreed to incorporate one woman per technical committee and one woman per party delegation to the primary decision-making body (the Negotiating Council) where issues like the Interim Constitution were debated and decided, only after activists from the Women's National Coalition blocked the proceedings to demand increased women's inclusion (Tamaru, N. and O'Reilly, M., 'How Women Influence Constitution-Making After Conflict and Unrest,' (Washington DC: Inclusive Security, 2018), <https://www.inclusivesecurity.org/wp-content/uploads/2018/02/How-Women-Influence-Constitution-Making.pdf>.