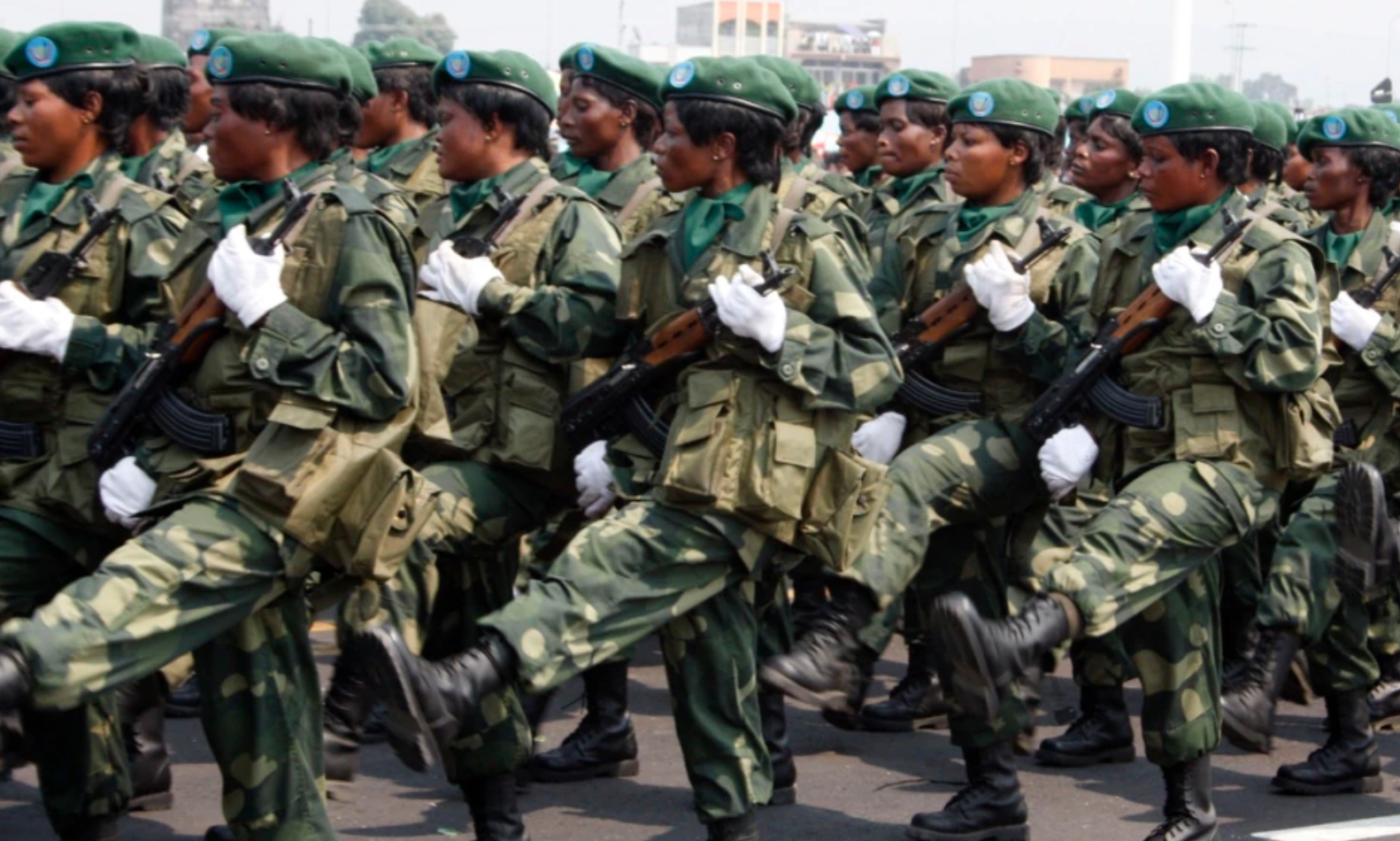 Female soldiers march in a parade as part of celebrations of Congo's 50th anniversary of independence in 2010. Image credit: VOA
Over the last 100 years, research shows that women's role in the army has changed fast and, in some cases, quicker- than society has changed. That development has been witnessed globally- including in Africa, where a growing number of states are now appointing women to head their defence ministries.
Defence ministries for six countries, Kenya, Tanzania, Togo, South Africa, South Sudan and Zimbabwe are currently being ably headed by astute women, an affirmation that women are as capable, if not better, once thrust into the position of power. Previously, countries like the Central African Republic, Ethiopia, Gabon and Guinea Bissau had female defence ministers at various stages, a commendable development towards ensuring equal opportunities for women.
Late last year, Tanzania became the latest country to contribute to this highly revered continental governance when the country's first female president, Samia Suluhu Hassan, appointed a woman as defence minister.
Stergomena Tax, former secretary-general of the South African Development Community (SADC), became the first female Minister for Defence and National Service of this highly conservative Eastern African. At the swearing-in of Stergomena Tax, Hassan said she chose to shatter the myth that women cannot serve in such a position. "I have decided to break the long-time myth that in the Defence Ministry, there should be a man with muscles. The minister's job in that office is not to carry guns or artillery," Hassan said.
Pleased by the astute leadership female ministers have been exhibiting, Ethiopia, which in 2019 had a female defence minister- now boasts of a cabinet with a record 50% female ministers.
In supporting a balanced cabinet and the decision to appoint, the then female defence minister, Aisha Mohamed Musa, Prime Minister Abiy Ahmed said: "Our women ministers will disprove the old adage that women cannot lead," Abiy said while presenting his choices. As a result of this progressive move, Ethiopia becomes the second state after Rwanda to have equal gender representation in the cabinet.
The widespread interest in female defence ministers has begun to make some societies view women differently and in a positive way. Though they sometimes court the ire of hard-core traditionalists, and these positions change traditional gendered expectations about women's role in politics. And as the news coverage suggests, women's presence in this post continues to be viewed as exceptional and possible development, if sustained, could increase women's involvement in executive leadership.
Though female politicians at the executive level have historically been absent from the defence portfolio, these patterns of exclusion have begun to change in the post-Cold war era.
According to Forbes magazine, "Today, there are 21 female defence ministers across 159 countries with militaries. That's 13%, and more can be appointed – who knew?
Making a presentation during the women's political participation regional workshop organised by Gender Links, UN Women and International IDEA in March this year, Ambassador Fatuma Ndangiza said it was heartening to note that 27 years after the Beijing Conference, countries are increasing female participation, although more needs to be done.