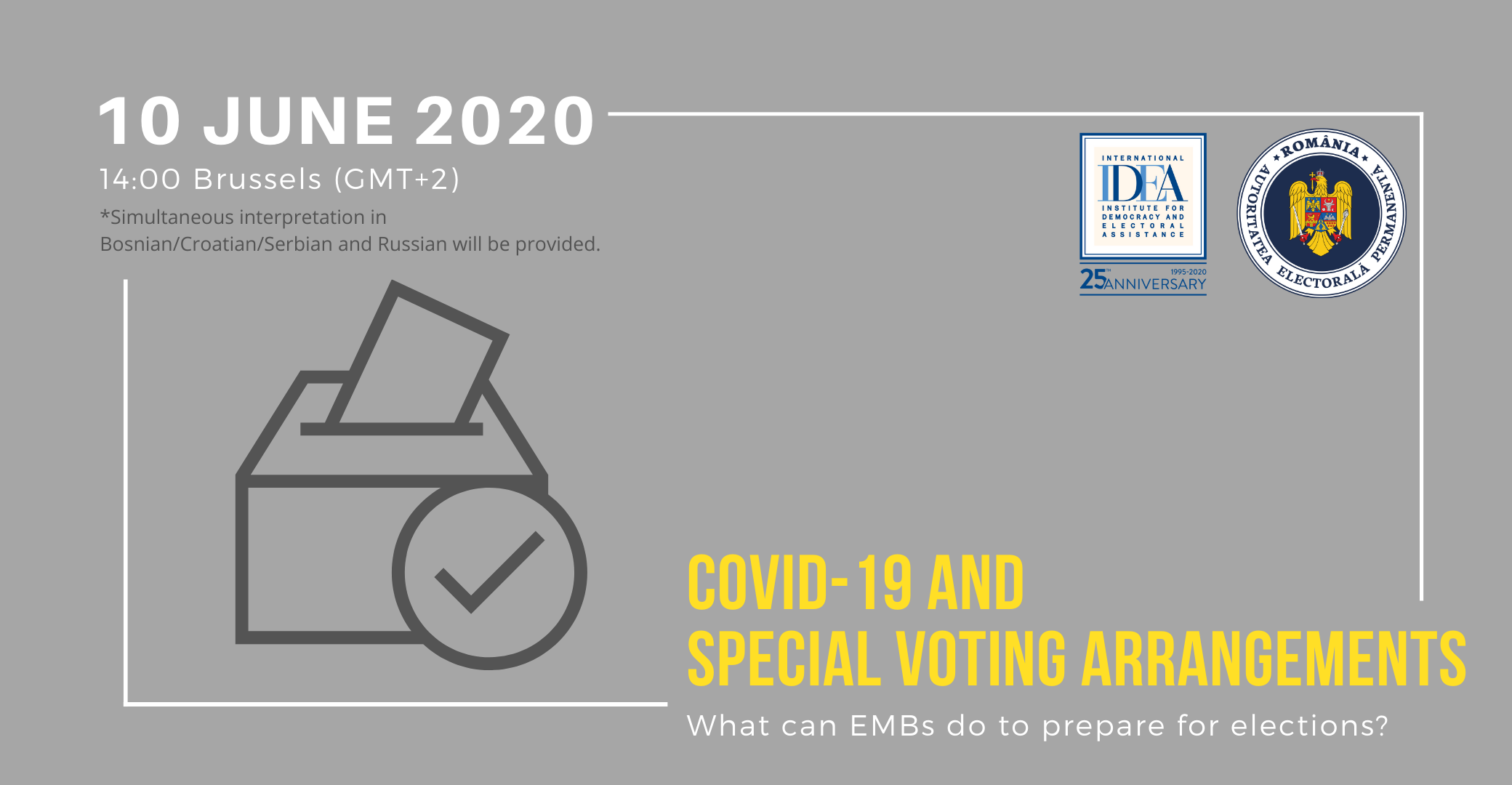 The International Institute for Democracy and Electoral Assistance (International IDEA) and the Permanent Electoral Authority of Romania will convene an online roundtable titled COVID -19 and Special Voting Arrangements (SVA): What can EMBs do to prepare for elections? The objective of this online event is to share knowledge and insight in using a variety of SVAs as countries prepare to hold elections in situations where epidemiological concerns necessitate the adoption of special arrangements to ensure the safety of election administrators and voters.
Forms of special voting arrangements conventionally include early, postal, online, proxy voting and use of mobile ballot boxes. Some of these SVAs involve voting within supervised voting stations and some enable voting without/outside polling stations. Over the past years, a growing number of countries across the globe, and in Europe, have utilised alternatives, with early, postal and proxy voting becoming more common. In the past months, the COVID-19 pandemic has led many governments and EMBs to increasingly consider adopting new or scaling up these special voting arrangements to avoid crowded voting on an election day.
For in-person voting, examples of elections held in recent weeks in countries such as South Korea offer useful insights on what measures can be adopted to mitigate risks of disease contagion while voters assemble to cast their ballots at polling stations.
Event Objective
This online discussion among electoral practitioners aims to foster knowledge exchange among EMBs and electoral assistance providers on using a variety of special voting arrangements while organizing elections under health restrictions. This practitioner-informed discussion forms part of a series of guidance materials that International IDEA has developed within its COVID-19 and impact on democracy work.
Event Participants and Format
The online roundtable discussion will bring together representatives of EMBs and election experts from electoral assistance organizations from across Europe. Speakers will be selected from EMBs. The meeting will not be live-casted but a summary report will be made available to the public.
Questions to be addressed:
Participants will discuss and share experiences on:
The variety of special voting arrangements currently in place in Europe and globally
What methods are more commonly used, what are the options and associated risks for their adoption in the short and medium term?
In-person voting: measures to mitigate health risks, accompanying voter education and information measures, added costs
Experiences in regulatory assessments for special voting arrangements
Contingency planning undertaken by EMBs
What support is necessary by election assistance providers?
Agenda
14:00 – 14:15 Welcome, introductions and special addresses (Moderated by: Sam van der Staak, Head of Regional Europe Programme, International IDEA)
Welcoming remarks:
Dr Kevin Casas-Zamora, Secretary-General of International IDEA
Mr Constantin Florin Mituletu-Buica, President, Permanent Electoral Authority of Romania
14:15 – 15:00 Special voting arrangements for elections in the context of COVID-19
Mr Peter Wolf, Technical Services Manager​, International IDEA
Mr Zsombor Vajda, Vice President, Permanent Electoral Authority of Romania
Ms Tamar Zhvania, Chair, Central Election Commission Georgia
Ms Laura Matjošaitytė, Chair, Central Electoral Commission of Lithuania
15:00 – 15:30 – Discussion
15:30 – 15:45 – Conclusions
*Simultaneous interpretation in Bosnian/Croatian/Serbian and Russian will be provided
Partner Organizations/collaborators:
Permanent Electoral Authority of Romania