Back to overview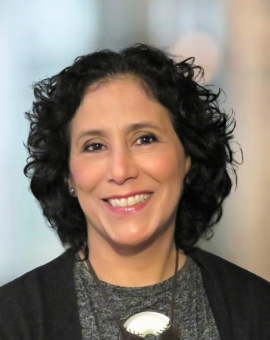 Alicia Del Aguila
Programme Officer, Latin America and the Caribbean
Alicia Del Aguila
Programme Officer, Latin America and the Caribbean
Alicia Del Aguila is a Programme Officer in the Latin America and the Caribbean Office, Panama City.
Del Aguila joined International IDEA in August 2022. She has an extensive experience as an international cooperation expert⁠—including in multilateral agencies⁠— researcher and academic. Her main themes are electoral systems; gender equality; inclusive democracy; public policies; and political history.
She is the author of more than 15 books or chapter books and published various academics and newspaper articles.
Prior to her current post, Del Aguila had worked at International IDEA in its Andean region office (2007-06/2014), and in Global Programmes as a Gender & Democracy officer (2014). Del Aguila was also a Development Officer at Global Affairs Canada-Embassy to Peru; Advocacy Officer at UNFPA; project coordinator at Transparencia, and consultant for UNDP, ILO, among others. Also, she was an advisor to the Minister of Culture of Perú, and member of the advisory council for the UNDP´s PAPEP report Peru: Strategic Challenges 2016-2021.
She worked as a country expert for Varieties of Democracies, assessing contemporary democracy in Peru, and then in the Historical V-Dem project (XIX-XX Centuries).
She is a member of the Red de Politólogas #NoSinMujeres, and of the consultant board of Argumentos review, Instituto de Estudios Peruanos.
Doctor in Social Science from the Universidad Nacional Mayor de San Mayor, Perú (summa cum laude). Master in Social Science, major in politics, from the Facultad Latinoamericana de Ciencias Sociales, México. Sociologist from the Pontificia Universidad Católica del Perú.
Her doctoral tesis, La ciudadanía corporativa. Política, constituciones y sufragio en el Perú, was pointed out among the best annual books on Peruvian History (Academics survey, 2013). More recently, her publication Afrontar el desastre. Reflexiones sobre la pandemia en la sociedad peruana (co-author) was considered among the best books in her country (El Comercio newspaper 2020).
Expertise
elections; gender; inclusive democracy; Latin America
Education
PhD, Social Sciences, Universidad Mayor de San Marcos; MA, Social Sciences, FLACSO México; BA, Sociology, Pontifica Universidad Católica del Perú
Languages
English, French, Spanish
Location
Panama City, Panama