This publication is only available in electronic format
This Discussion Paper was drafted for an International IDEA webinar on Taming the Incumbency Advantage (25 May 2021), the first of a series on innovative constitutional design options. It has been revised and updated to reflect contributions from webinar participants: Professor Juvence F. Ramasy (Madagascar), Professor Ridwanul Hoque (Bangladesh) and Professor Gabriel Negretto (Latin America), among others.
The webinar series seeks to identify, discuss, profile and showcase the 'hidden treasures' of innovative constitutional/institutional design options—including from the Global 'South'—with potential to help tackle emerging and recurrent challenges facing societies around the world. The goal is not to promote any specific institutional design, but rather to enrich conversations about constitutional reform processes and share comparative constitutional law and practice insights among academic and practitioners' communities.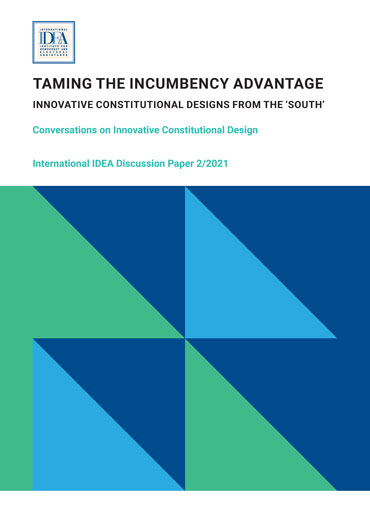 Contents
Acknowledgements
Chapter 1. Introduction
Chapter 2. Innovations to tame the incumbency advantage
Madagascar
Cabo Verde
Bangladesh
Chapter 3. Potential benefits
Chapter 4. Potential drawbacks
Chapter 5. Conclusion
References