The state of political finance regulations in Canada, the United Kingdom and the United States
The influence of money in politics is a significant threat to democracy, affecting established and emerging democracies alike.
Inadequately controlled flows of money undermine the credibility of elections and the integrity of democratic institutions and processes around the world. Well-designed political finance regulations that are enforceable and anchored in their country's context play a vital role in ensuring that money is a positive force in politics.
In 2014 International IDEA published the second edition of Funding of Political Parties and Election Campaigns: A Handbook on Political Finance. This Discussion Paper provides further updates on the latest trends in political finance regulation in three anglophone democracies—Canada, the United Kingdom and the United States—in order to advance the debate on money in politics, and to move from recognition of the problem towards a solution-based discussion.
Details
Publication date
11 July 2016
Author(s)
Susan F. Scarrow
Contents
Acknowledgements
1. Introduction
2. Changes to the landscape since 2010
3. Reflection
4. Conclusions and recommendations
References
About the author
About International IDEA
Give us feedback
Do you have a question or feedback about this publication? Leave us your feedback, and we'll get back to you
Send feedback
The state of political finance regulations in Canada, the United Kingdom and the United States
3224
6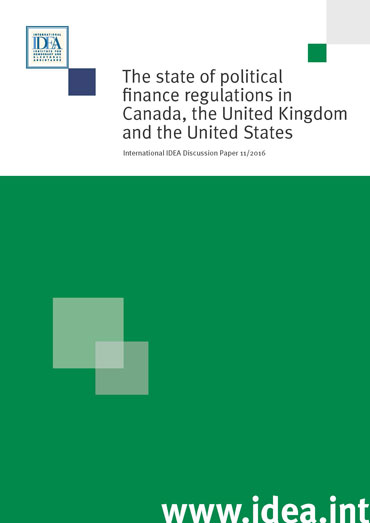 | | |
| --- | --- |
| Total views | 3224 |
| Downloads | 6 |
| Rating | |
Give us feedback
Do you have a question or feedback about this publication? Leave us your feedback, and we'll get back to you
Send feedback