Secure and Fair Elections (SAFE) Workshop: Model Curriculum
The Secure and Fair Elections (SAFE) Workshop Model Curriculum combines academic and practitioner perspectives to provide a holistic insight into the principles, challenges and good practices related to electoral security.
The curriculum consists of 14 modules and 9 practical sessions. Topics cover a variety of perspectives, including security and integrity considerations in elections, analytical methodologies, the role of the media, justice mechanisms, and the use of information and communications technologies in the provision of electoral security.
The SAFE Curriculum can be incorporated in electoral assistance programming, and can play an important role in strengthening the capacity of election practitioners and security-sector agencies. It will further assist other national and international stakeholders interested in safe elections.
Details
Publication date
27 November 2015
Co-Publisher(s)
United Nations Development Programme, Electoral Integrity Project
ISBN
978-91-7671-029-6 (Print)
Contents
Introduction
Overview
Acknowledgements
Acronyms
Theoretical Modules
1. Electoral security within the electoral process
2. Global integrity of EMBs
3. Security considerations in the different electoral phases
4. The role of security forces (core)
5. Electoral security in peace processes and transitions (non-core)
6. Stakeholder analysis (core)
7. Media and electoral security (core)
8. Electoral justice and security (core)
9. Mapping risk to an electoral process (core)
10. Using new technology to map risk (core)
11. Mapping, preventing and mitigating election-related violence with focus on International IDEA's Electoral Risk Management Tool (ERM Tool) (core)
12. Identifying electoral security interventions (non-core)
13. Security, violence and new technologies (core)
14. Lessons learned globally: What can national and international actors do to ensure secure and inclusive electoral processes (core)
Practical Sessions
1. Country and stakeholder presentations
2. Mapping simulation (ERM Tool)
3. Crowdsourcing
4. Introducing election security
5. Roles and responsibilities of security forces
6. Relationship between EMBs and security forces
7. Joint Elections Operation Centre (JEOC)
8. Conduct and election-related training of security forces
9. Summary of the learning objectives
About the partners
Give us feedback
Do you have a question or feedback about this publication? Leave us your feedback, and we'll get back to you
Send feedback
Secure and Fair Elections (SAFE) Workshop: Model Curriculum
7373
5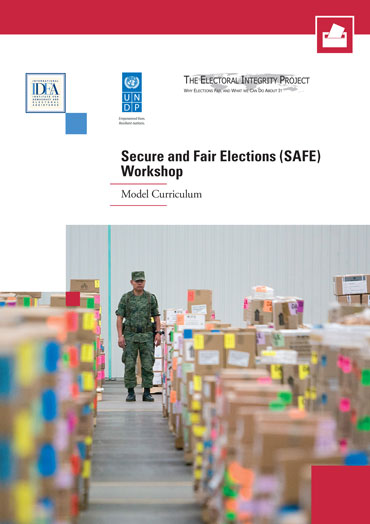 | | |
| --- | --- |
| Total views | 7373 |
| Downloads | 5 |
| Rating | |
Authors
Give us feedback
Do you have a question or feedback about this publication? Leave us your feedback, and we'll get back to you
Send feedback